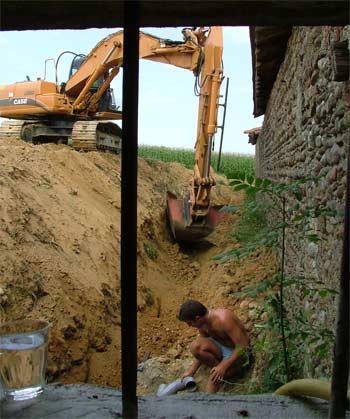 The septic tank in position. Now the drainage channels around the house.
Our grounds look like a battlefield. Trenches open everywhere. But, the septic tank (fosse septique) is in the ground! Wonder of wonders, our contractor turned up on the day he'd promised and started tearing out the bushes and digging the trench behind the house. It must have been Caroline's persistent, weekly phone calls.
Things are finally moving. Whilst the ground is open, we are placing water pipes and electricity cables to the Antoinette barn. That will save us digging it all up again once we get round to making the barn habitable.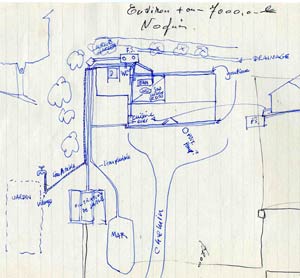 Our drawing and the signature of the contractor, with a ± price. The nearest we got to a quote for the job.

Digging out the hole for our 3000 litre fosse septique. Our new bathroom will be installed just above the man on the right.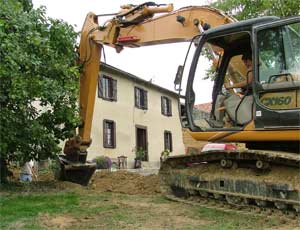 Digging the channel from the fosse septique to the sand filter at the bottom of the drive.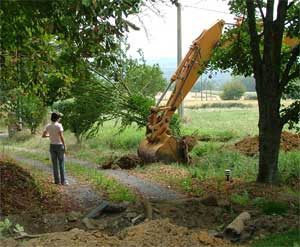 Replanting the hibiscus trees that had to make way for the drainage.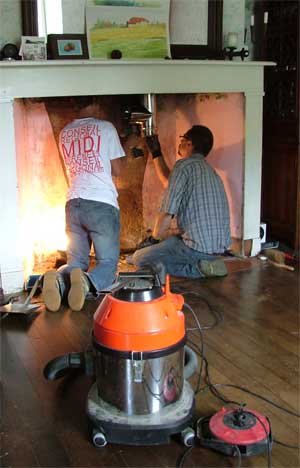 Klaus, 'Le Plombier', fitting the smoke canals for the two wood burners that we found in the house. Now we need to buy some wood. The wood burners are for a 'cosy' feeling. We have oil central heating, but will replace the old-fashioned boiler in the kitchen, with a modern one that has a greater capacity for the extra radiators we will be adding.
Klaus is also working on getting a pump installed so that we can use the old well in front of the house.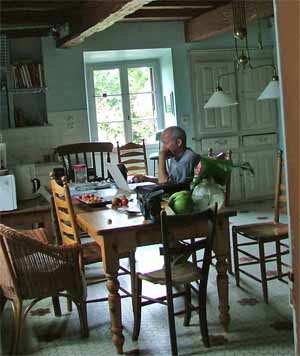 Whilst all this was going on, our office was temporarily moved to the kitchen.

Rain water from the gutters and around the house will be channelled to a large pond, so that we can irrigate our vegetable garden without having to use drinking water.
We are fine-tuning the layout of our en-suite bathroom and guest bathroom upstairs. This involves treating the timber for parasites, relaying broken roof tiles and sealing and insulating the space between the beams. We don't have a lot of headroom and are investigating different ways to get more light into the space without having to resort to modern skylight windows.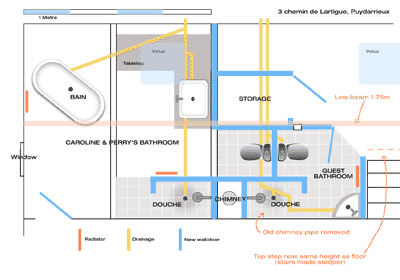 The latest of many sketches, on the way to the real thing.
We plan to begin that phase of the work in the spring. Before the winter, we need to insulate the annex where we have our present WC and shower. Thick curtains in front of the doors and draft excluders will be the order of the day.
So we have enough to keep us busy and the mud and dust keeps getting walked into the house. But it has been pretty painless so far. Speak too soon?...
Our house archive
2005
March | April | June | August | October
2006
January | March | May | July | September | December | Roof blog
2007
April | August | December