As we write this, we are still awaiting quotes for the much needed installation of the drainage and the fosse toutes eaux (septic tank). It is nothing special to have to wait for months, just for the quote.
In fact, you should never be in a hurry to get a job done here. Unfortunately we are in a hurry, since all rain water runs up against the walls at the back and the house retains so much humidity that the job needs to be finished before another wet season sets in, before the end of this year! We are aiming for August, since this usually is the driest month, thus easier to dig in the heavy clay soil. The contractor goes on holiday in February, since he can't work in the rain.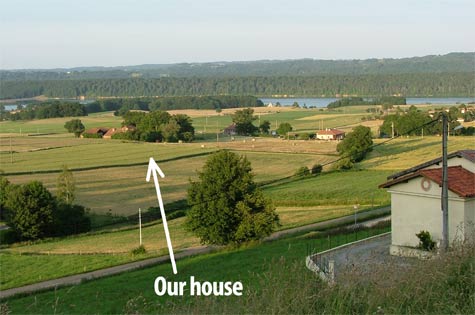 Our house viewed from the church
But if we have to wait so long for a quote, how long will we have to wait until the workers come to do the real job. We call every week to remind him about the quote and every time he answers in a way that we think it is imminent...Anyway, welcome to France, the land where patience is a virtue. Au secours!
In the meantime we have not been sitting around. With help from our family we have been able to get a lot done.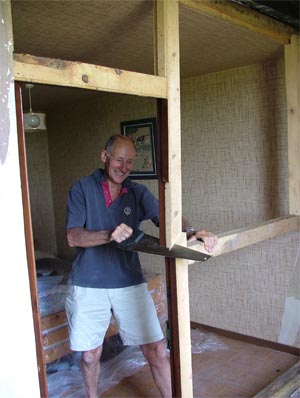 Don't complain about the size of your room. Do something about it!

Before and after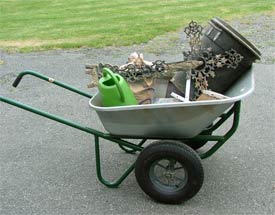 Do-It-Yourself pilgrim kit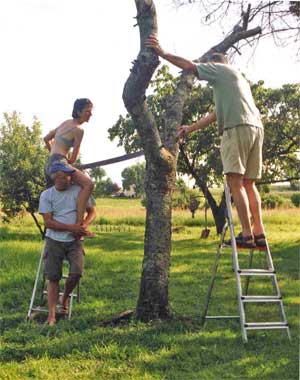 The labourers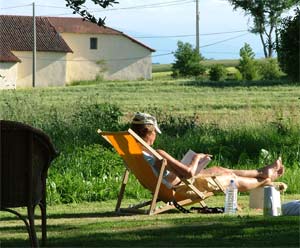 and the Foreman

Jeroen removing the handrail at the front door
The cutting edge.
With the house, came the land, some of which we use as garden. We have found a local firm that comes to trim the grass occasionally with large tractor-lawnmowers. But there are always places where a machine cannot reach. In her endeavour not to use noisy, petrol-consuming machines on the land, Caroline had set her heart on using one of the scythes we had found in the barns. Only the blade was left, so she took it to the bricolage shop. After the man had welded a break in the blade, he sold her the handle and the wetting stone. Walking around the shop with these tools, she was observed and questioned by a couple of short, ham-armed farmers, "are you really going to use that?" A scythe is outdated, since they now use petrol-driven strimmers. Listening to a skinny-armed, foreign lady explaining in perfect French, that she intends to swing it around her property filled their eyes with wonder and admiration.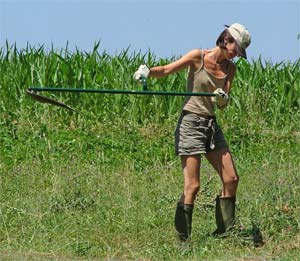 Perry's barber practicing her stroke


We're expecting water shortages soon with this dry period continuing
Our house archive
2005
March | April | June | August | October
2006
January | March | May | July | September | December | Roof blog
2007
April | August | December