In this section:
Before you start
Planning permission
Artisans
Further links
Having bought your house in France, there will invariably be work required to get it into the state you want. This could mean simple things like retiling a bathroom, or adding a modern septique tank. It may be that your new property is uninhabitable and so you'll be starting from scratch.
Whatever work you feel you need to do, it needs to be planned properly. In many cases it will require planning permission (permis de construire), or at the least, a déclaration de travail. Here are few tips and leads that will hopefully help get you through the paperwork and organisation required when renovating your house in France.

Before you start
Wherever possible, try to spend time in your new house before starting on any renovations. Your house will probably be quite old and has stood the test of time. Doors, walls and features were put there for a reason and in a fashion that has been repeated over many generations.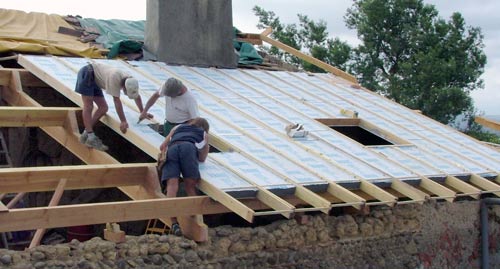 Replacing the roof needed no planning permission. Adding the Velux skylights, did.
By living in a house, no matter how basic it may seem, gives you a feel for how you will live in it in the future. For instance, in our house, the back kitchen, usually used to make conserves and charcuterie, was built to be colder and darker than the main kitchen or dining room to the front. The wine cellar or chai, is always on the north side of the house and designed to be cool, dark and humid. Not spaces to use as living or sleeping quarters, unless you insulate the floors and walls. The north and west walls have very little windows, if at all. And hardly ever a door. The prevailing wind and and all the rain it brings would find a way in, no matter how good the seal.
Travel around the area and look at the way other houses have been renovated, what original features they have and the materials they have used. Have sympathy for the techniques used in carpentry, masonary, roofing, waterproofing and drainage. A modern damp proofing solution could be the worse thing you could do to a house made of clay walls. Applying modern techniques or materials could remove the charm or authenticity of a house and ultimately its value. Use local artisans who know these types of houses and have been trained to follow the techniques used for generations.

"Ahhh, your chimney is about to fall in". Another surprise we didn't count on.
A renovation will often reveal other problems, or better still, better solutions, as the work progresses. We often adjusted our ideas as we went along. Seeing something in another house, or in a magazine, gave us an idea that improved what we originally planned.
Planning permission -Permis de construire
Talking of plans, you will need to get planning permission for projects where the exterior of your house will be altered. Permission is also required when you change the usage of a building from agricultural to residential, such as with a barn conversion.
Replacing a roof with the same looking tiles, or adding a shed, patio or small garage that covers no more than 20 sq metres, do not need planning permission. However, if your house is close to a national monument or is a listed building, you will need permission and you'll probably be quite restricted in what is allowed.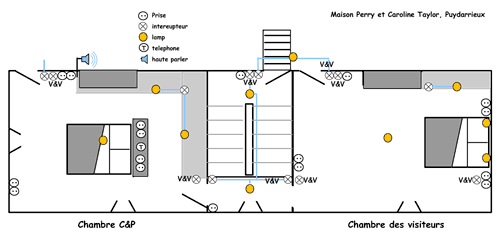 Our electrical plan for upstairs came from a lot of time spent working out exactly where we would be walking in and out, using appliances etc. This was plan nr 5!
It's better to be safe than sorry. Ask at your Mairie (town hall) for the forms and fill in your plans. The Maire himself may be able to give you some guidelines as to what is and is not allowed within your commune, without having to ask for planning permission. Brazenly going ahead and playing the 'Oh, I didn't know' card could end up with you seeing the construction being demolished. France is very strict in this.
Having an architect to draw up the plans is only necessary when the building in question is over 170 sq metres, or will end up being bigger than that when finished.
We found this site which gives a much more detailed answer to this subject.
Headdon Consulting - Independent legal advice & assistance coincidentally, are based in the Gers.
Artisans
Be patient. Not everything will happen as and when you like. French artisans, if they are good, will normally have months of work ahead, so don't expect them to turn up just like that. In fact, even when they give you a date, it may be several weeks after that they actually arrive. 'Ça dépend', or 'Normalement' are the standard opening responses when cornered. Often the weather, client changes, (non)delivery of materials or taking too much on, will cause a delay in starting, but generally we have experienced that once an artisan is on site, he gets on with the job quickly and efficiently.
Being on site whilst the work is progressing will save you a lot of problems, a lot of time and probably a lot of money.
Try to use French, registered artisans. They work the way their forefathers did. Understanding the materials and respecting the techniques of before. This is especially important with old houses. They also offer you a guarantee of 10 years on their work. Something a mate who comes down for a few weeks from England cannot do. Electricity has to be wired according to the French standards and are different to those set in Holland and England. Using local artisans is good for local business and for your standing with your community. They will do the job with respect and seldom consider cutting corners. Their reputation is important, since they probably came to you by word of mouth and will get more work the same way.
Talking of which, we wholeheartedly recommend the artisans who have worked on the house so far. They all turned up on time (just about), provided expert advice and helped change our minds for the better on occasion. They are fun to work with, keep to budget and are respected by their fellow artisans as professional and trustworthy.
Of course, if we give you their names, we'll never see them again.
A variety of interesting books on renovating and restoring a French house can be found in our own bookstore, under the category Buying and renovating a property in France.

Further links
Here are a few sites with information about artisans in France. None of these sites or businesses are connected to us at Two Can in France. They are simply sites we have found and find relevant or interesting enough to pass on to others.
www.artisandefrance.fr A directory of registered artisans, throughout France
www.artisan-anglais.com English speaking, registered artisans in France
www.pagespro.com A French directory of all professions and artisans
www.findatradeinfrance.com Post your project for quotes from artisans in your area (we'd advise you to use this as a last resort).
Home Renovation/Repair An interesting and informative article about artisans by feature writer, John Blatchford.