In this section:
Our own experience
Buy in haste, repent in leisure
The purchasing process
Relevant reading material about buying and renovating a property in France
Further links
Our own experience
Caroline and I finally came down for good after several visits at different times over a couple of years. Autumn, Winter, Spring and high Summer. We rented a small hunter's lodge for a year and went hunting ourselves, for houses, every day. Scanning the newspapers, placing ads, dropping flyers in letterboxes and following every little lane off the beaten track. We still have the tattered map we used. Covered in marker pen and biro, scrawled exclamations, illegible notes and coffee stains.
We found many uninhabited houses falling into ruin. Often we discovered it to be an inherited property that the beneficiaries didn't want to spend money on. Sometimes there was one of the beneficiaries that just couldn't sell 'Grandma's old house' while their siblings watched their inheritance crumble away. We had one such house where one brother was selling and the other not. After three attempts we gave up. Four years on and it still hasn't been sold.
In the end we knew more about the market and who was 'thinking about' selling than the estate agents. Finally, we found our house, via a friend of a husband of someone we bumped into on a snowy, January day while checking out a locked-up house that we'd heard, from the ex-postman, might be for sale. Without being here, taking our time and doing our homework, we'd have never discovered our house, 40 kms further south, let alone have had the opportunity to buy it.
We had the time and were here permanently on the look out. If you are searching from home, it is best to work with a couple of good estate agents and give them the most precise brief you can. Come down and spend some out-of-season breaks in the area you fancy. Work out where all the amenities are and where the villages are that appeal. Make a priority list, take photos of house types you like and remove your rose-tinted glasses. The house you are about to buy could be your most important purchase ever. The market in our area peaked a couple of years ago and there are now many properties up for sale. With the downturn in the economy, they will remain unsold for longer. Now could be the time to could pick up a good deal, but be patient and don't grab the first place you see.
When we set out, we wrote a long checklist and set each prospective property against it. A house didn't have to be able to tick all the boxes, but it was our guideline. Some of the points were:
• Enough land around for us to be undisturbed by noisy neighbours. But not too much to maintain.
• A clear view from the front of the house to the mountains or far valleys (shame to be closed in by a clostraphobic valley, when there's so much beautiful landscape around).
• A farmhouse, with enough rooms to accommodate visitors without it being too big for just the two of us.
• Not too close to a road where traffic passes daily (thinking of pets, children, privacy and the noise).
• Habitable enough to live in during any renovations (saved on renting)
• In the countryside, but not isolated (a bit of social control is good for keeping burglars out and your plants watered while you're away, also, being a good neighbour is very important in French country life. Give and ye shall receive, by the basket load).
• Not in the shadow of a wood or hill when the winter sun is low.
• No more than 10 kms from a market town, amenities, etc.
• Not near a duck, chicken or pig farm (smelly and noisy at all hours and seasons).
• No grain silos, tractor hangars or commercial business nearby (we came here to get away from all that traffic).
• A house that's half our total budget, since we will spend the same again to get it the way we want it (i.e. new roof, plumbing, electricity, bathrooms, kitchen, barn, trees, etc). Believe us, this equation has been proved so many times by our fellow escapees. This is SO important!!!
• An area where ADSL internet is available (without it, I couldn't work).
I'm sure some are irrelevant to those of you who have children, horses and their golf swing to think about. But it gives you an idea. Start writing those criteria down!
By seeing many different houses and situations, we became aware of what to look out for and what the true value was of properties. All stuff we would never have thought of in the beginning.
For instance, if someone takes you to see a house during the lunch hour or weekend, which has a road nearby, it will probably be quite quiet. To be sure, go back again on a week day, just before or just after lunch and see how many locals are using the route to get home for the most important meal of the day. We know of someone who only later discovered that a builder's merchants was up the road and that large trucks and vans dashed past at 12 noon and 1:45pm every day. A recipe for disaster for their dogs and cat.
The following is an excerpt from the book Buying a Property in France - An insider guide to realising your dream, by Clive Kristen. It was one of many invaluable books we read before and during our search for a house in France and I honestly couldn't have put it any better.
Buy in Haste, repent at leisure
Buying property is the biggest single financial commitment that most people make. If that property is in another country, it is wise to be doubly sure that this onbligation is understood. Awareness of possible snags and pitfalls is an important part of the process of planning the purchase. For many people it can mean the difference between pleasure of ownership and disaster.
Some have discovered the language barrier too great, others have discovered that they, or their children, have simply not settled to living year round in a foreign country...
Consider renting first
It is highly recommended that prospective French house buyers rent property first.
• You have a chance to fully research the local property market.
• You have time to find out how well you and your family adapt to a new way of life.
• You can see if life in the winter lives up to the expectations of the summer.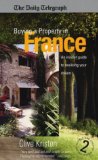 Find out more about the book Buying a Property in France in our bookshop
The Purchasing Process
Ok, let's presume that you have finally found and fallen in love with a house. What happens next? The process of buying a house in your own country is complicated enough. Solicitors, deposits, surveys, taxes and fees. Now do it in French and where the rules are also slightly different. Here are a few pointers about the steps and fees involved in pruchasing a house in France.
The following information comes from Ian Purslow, an estate agent based in the Gers, his company is called Purslow's Gascony. Purslow's Gascony has a beautiful, top-of-the-market portfolio of manoirs, chateaux, maisons de maîtres, and quality farmhouses. Perry is presently working on Ian's new website, which will be launched soon.
Notary's Fees
At the time of completion, the notary collects purchase taxes on behalf of the French State, which are calculated on a sliding scale according to value of the property. The notary's own legal fee for the conveyance is added. Together, these total approximately 6.5 % of the bricks and mortar price, excluding the value of any contents. A mortgage will add a further 0.5 to 1% to the overall fees.
Estate Agent's Commission
Normally, a house price will include agency commission which is payable by the seller upon completion of the sale.

Compromis de Vente
Drawn up by the buyer's notary, it sets out in full all aspects of the transaction and includes standard as well as any special conditional clauses. Properties are inspected for the presence of asbestos, lead and termites and the purchaser advised. Searches for these three elements are obligatory in some départements, such as the Gers, whereas the Hautes-Pyrénées find a termite inspection optional. The deposit, customarily 10%, is paid to the notary at this time. Once signed by both parties, the contract is mutually binding after a statutory 7 day cooling off period.
Searches
A satisfactory return from the local authorities must be available to the notary prior to completion. Local bodies and notably the national land commission SAFER, must release any rights of pre-emption. In general, if you are buying a house with more than 2 hectares of farmland, the SAFER will have priority and offer the property and land to local farmers. But in general the farmer would only be interested in the land and not the house, so there are very few takers. This takes about two months to complete.
Acte de Vente
For completion, the 90% balance of the purchase price, together with the notary's fees, must be in the notary's possession in advance of the signing of the Acte de Vente. As with the Compromis de Vente, buyer and seller are present, unless represented by Power of Attorney. The signed document remains in the notary's archives. Once published with the Land Registry, a copy is subsequently available to the purchaser. Contents included in the sale can be itemised in the Acte de Vente.
Local Rates
There are two local taxes, which are levied on all French properties. The Taxe d'habitation is paid for the year by the owner (or tenant) in occupation on the 1st January. The Taxes foncières, which relates to buildings and land, is split pro-rata between buyer and seller. Bills arrive in the Autumn for the current calendar year.
Utilities
One of the responsibilities of the estate agent is to arrange the hand-over of water, electricity and telephone contracts.
Note that a new telephone number is issued to a new owner and that rental contracts on telephones, modems, adding new telephone points, etc are the responsibility of the new owner.
Insurance
Buildings insurance becomes the purchaser's responsibility immediately on completion. The existing insurance policy can be transferred or a new agent appointed. This should be arranged in advance of signing the Acte de vente."
Go to Purslow's Gascony website
Invaluable reading material
Our shelves have many well-thumbed books on all sorts of subjects concerning moving to France. Diaries of others who have gone before, the do's and don'ts, renovation techniques and the practical and impractical sides of living and working in France. We've created an online bookstore with everything we think would be of help for those of you considering moving to France.
A variety of interesting books on BUYING A FRENCH HOUSE can be found HERE in our own bookstore, under the category Buying and renovating a property in France.
Click HERE for our complete BOOK SHOP

Further links
Here are a few more sites with information about buying a property in France. None of these sites or businesses are connected to us at Two Can in France. They are simply sites we have found and find relevant or interesting enough to pass on to others.
www.buyahouseinfrance.com Bilingual estate agency in France, offering advice when buying
www.expatica.com A guide to buying a home in France
www.escapeartist.com Researching when buying a home in France
www.wikihow.com How to buy a holiday home in France

Other pages in the HELP & TIPS section
Help & Tips main | Renovating a house | Inheritance Law | Reading up