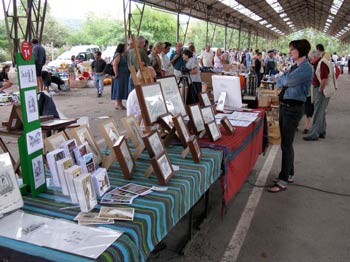 The artist selling his wares among the other crafts and attic clearance stalls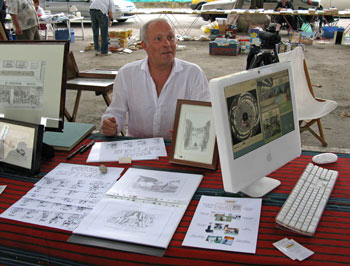 The Mac on the desk attracted a lot of attention and the
business cards were nearly all gone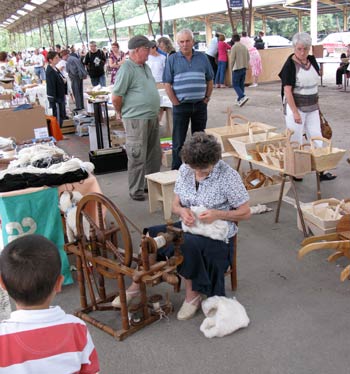 Next door, the older arts and crafts were still being practiced

Picking onion seeds with the famille Taran and friends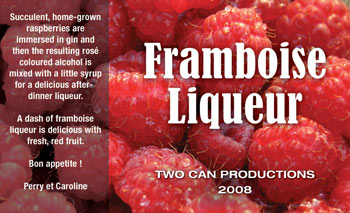 The garden has been still productive, despite a changeable Summer. The raspberries have been especially good this year. We had to do something with them!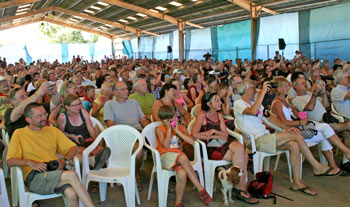 The annual Pourcailhade still attracts visitors despite the pig
market having stopped more than 15 years ago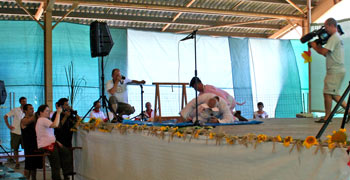 The contestants enact the ritual of breeding, suckling and slaughter. All done with a lot of piggy noises and piggy outfits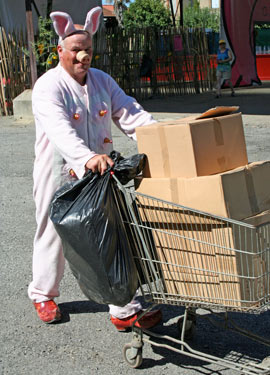 The winner, who does these competitions all over France,
leaves with his prize, a whole pig. Dig the nipples.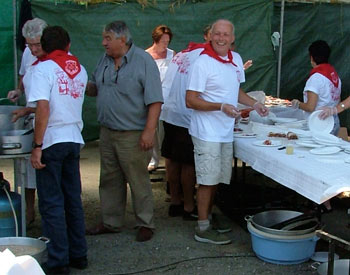 Meanwhile, Perry helped the kitchen team lay out the charcuterie
for more than 430 hungry people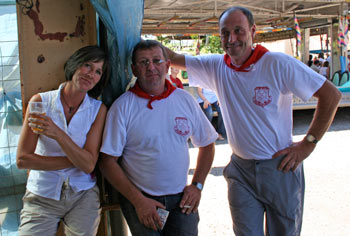 Caroline, Jeff and Alain man the gate to the pourcilhade tent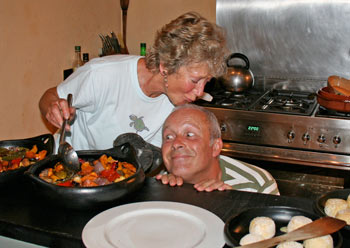 Perry begging for scraps at Marina's and getting them!
Getting my name out there
At the beginning of August there was a vide grenier (attic clearance) and artisanal crafts market in Trie. Perry signed up and we set up his work with displays for the cards and frames for all his drawings.
The best selling item was Perry's hand-drawn sign for use in houses with a fosse septique, with cartoon drawings warning people not to throw floss, tampons and other stuff down the loo.
There was a lot of interest for the Apple computer and the 360 degree camera that we had set up. It certainly had people gathering around the stall and taking business cards away. Hopefully it will bring in some more clients looking for graphic and website design.
Onion seeds
Just up the road, our neighbours Olivier and Valérie Taran have a farm. They grow tobacco and onions. We had a call asking if we'd like to come help pick the dried out seed heads of the onions. These would eventually be divided from the chaff and sent off to be packed in small sachets of several grains and sold for a few euros a time. Unfortunately Olivier gets about that per kilo. Their machine had broken down and they had to bring in the crop by hand. So family and friends were already working away as we arrived.
We turned up after lunch and joined the crew in the glaring sun. Starting from both ends of a field, we worked towards each other, breaking off the stalks a hand width below the seed heads and slowly filling the sacks. It was tough work and although we were only able to help for a couple of hours, our backs were aching and our hands dried out, stained and dry. Passing by the next day, we saw that they had cleared the whole field, poor people.
Too much of a good thing?
We love raspberries. Which is why we now have about fifteen plants. This includes the young shoots we planted at the beginning of the year. On average, from the end of June until the end of September, we were picking about a kilo of raspberries every day or two. Caroline made a lot of raspberry coulis, raspberry liqueur and has now started making raspberry vinegar. In the meantime, we have been eating bowls of raspberries at breakfast, lunch and dinner time. To the point that the luxury of the taste didn't have the same appeal any more. Still, we also planted yellow raspberries as well as goosebrries, blackcurrants and blueberries this Spring, so next year we'll be having mixed fruit salads instead.
It's a five day party!
Now, Trie-sur-Baïse, our local market town has a lot of activities going on. In the beginning of August Trie is 'en fête'. This entails five days and nights of music, dancing, drinking, eating and lots of weird and wonderful costumes. A little like carnival.
We went down to join in the fun and made it home around 4 or 5 am each night. We'd come into town the next morning and find groups of people wandering around still from the night before. The great thing is that with all the partying and alcohol involved, no one gets out of hand, gets punchy or vandalises anything.
Mr Toulouse, who runs the bike and lawnmower shop, cleared his showroom and the Comité des fêtes turned it into a Bodéga with a dance floor and a simple bar out front, selling only champagne.
As each day passed we saw how people looked more tired and ragged. We were also amazed at the costume changes going on each evening. One night a whole load of rugby players came dressed as monks and nuns, the next evening as airline pilots. Hilarious. On the last night, a storm suddenly swept in and two of the other temporary buffet bars were torn apart by the wind and scattered over a large area. Unpeturbed, the Triaïs just cleared up, moved elsewhere and carried on partying. And we used to think that Trie was a dead-end town!
Here Piggy, Piggy...
Trie-sur-Baïse used to have the largest pig market in SW France. Cars and vans used to be parked all the way up to two kilometers away, on market day. Almost 20 years ago it had reduced in size so much because of the supermarkets and large scale companies taking over, that they stopped the market. This led to Trie becoming like a ghost town. Even today, there are still shops and premises that are closed or boarded up. When the market went, it took all the associated businesses with it. Only over the last five years or so, has Trie begun to get back some of its character and prosperity. Still nothing like its hayday, but it is a vibrant town again.
Part of the success comes from the local businesses committee who have been very active in creating and managing events throughout the year. One legacy of the old market is the Pourcailhade. This a celebration of all things PIG. It started with a bacon and egg breakfast, prepared by the local Brits. This was later followed by the lunch, which involved a large plate of charcuterie with paté, dried ham, saucisson, chorizo and cold boudin noir. Then Cassoulet with pork chops, red wine, cheese, cakes and coffee. Perry had joined the kitchen team and was in the back loading up the charcuterie platters. The original plan was to cater for 300 meals, but it was so popular that more than 430 meals were served. The team eeking out what was left to make sure as many people had something to eat as possible.
Then followed the main event. The pig imitation competition. There were prizes for best impression of a pig having sex, giving birth, being chased by a farmer and being slaughtered. Oh yes.
Competitors come from far and wide, in fact the winner came from Bretagne and apparently does this sort of thing on a regular basis. It takes all sorts. Anyway, he was happy and wheeled away a shopping trolley full of pig meat as first prize.
August also brings the Jazz in Marciac festival. Two weeks of jazz and related genres. Over the years we have seen Taj Mahal, Joe Cocker, Jamie Cullum, Cesaria Evora, Marcus Miller, Bill Evans (the sax player) and the Afro Cuban All Stars. This year we went to the smaller Arena, which was the original bullring of the town and is a much more intimate place than the main 5000 seater venue. The Arena is a little like the Paradiso in Amsterdam or the Roundhouse in London. We saw Orchestra Baobab, who would have had the roof hanging off its hinges, if there had been one. Under the silhouetted tree branches and the bar within reach, we had swung and watched musicians who were really having a whale of a time, improvising and getting the audience involved.
Our friend Marina lives just up the road from Marciac. She moved there because of the jazz festival and has a season ticket each year, going to a concert nearly every night for two weeks. She has a lot of stamina for a lady who is about to hit 70. Good on her.
Now, that was yet another month of non-stop partying and to think we thought we might end up having nothing to do out here in the sticks.
Anyone got an aspirin?
A bientôt.