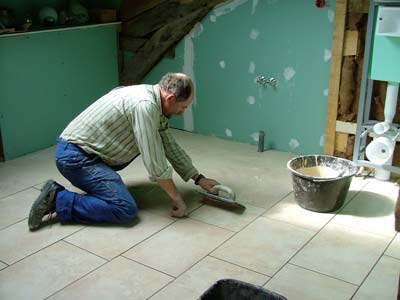 Jorge worked as fast as two men and twice as long. He is also an excellent carpenter. He's also legal!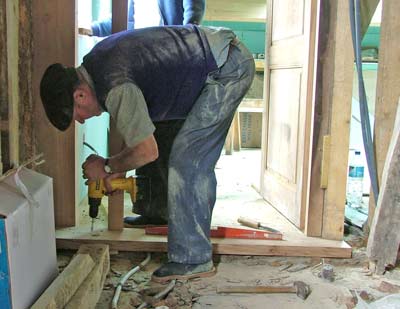 This man goes nowhere without his beret.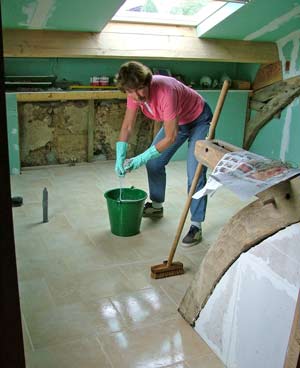 Marianne cleans up after the tiles had been grouted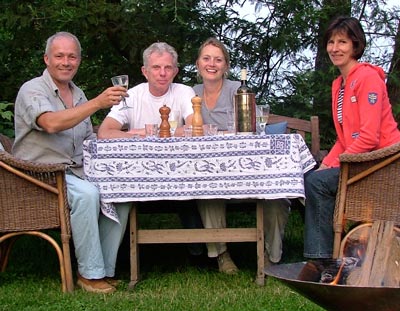 Christain and Saskia stayed over for a few days of rest and relaxation. The weather just held out for them before tumbling back into a wet, windy and very unusual summer.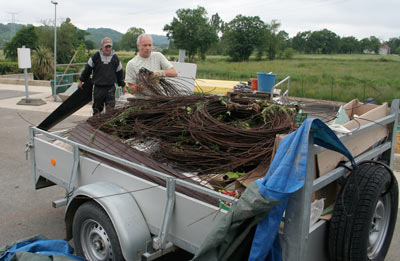 Our trailer has paid for itself many times over. It has carried beds, a piano, cement bags and loads of rubbish to the déchèterie.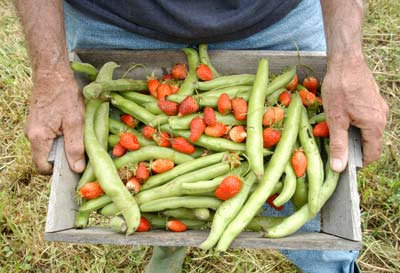 May saw our first strawberries and broad beans ripen.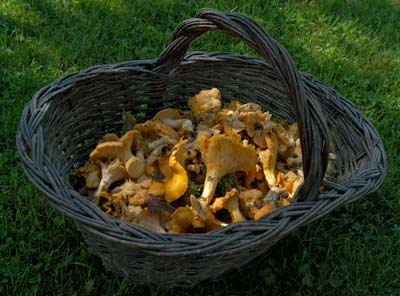 Girolles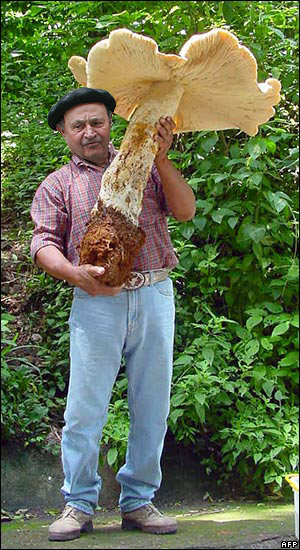 Ernest, the Girolles King
(body and mushroom borrowed from the BBC news site)
New faces
Having heard that our British builder, Terry and his son Simon, were booked for another job, we decided to hunt out a tiler to keep the bathrooms on track. Our German plumber, Klaus introduced us to a friend, also called Klaus and his workmate, Jorge, a Polish tiler. They came along one Sunday morning, checked the 'chantier' and gave us a quote. We agreed the price and a few days later Jorge started tiling the first bathroom floor. He worked from 8 in the morning until 8 in the evening, each day. Three days later we had two fully tiled floors. We were so pleased, we asked him to do the rest. But that was in June...
New door
Meanwhile the carpenter, Ernest came to help us place two old doors that originally hung in his farmhouse. We had knocked through the old wall and he came to show us how to place the frame and threshold. A bit of hammering and sawing was involved since nothing in our house is straight or at 90 degrees. Still, it looks good and as the wall between the bathrooms was closed off, we needed a new access to the bathroom anyway.
New words
Our neighbours, Alain and Veronique, have two children. Damien and Laure. Caroline helped Laure one Sunday in translating her English essay. We sat around the table with dictionaries, pens and paper. We all learnt a few new words, phrases and jokes from each other's language.
Usual suspects
May saw Caroline's parents arrive for a three week visit. The DIY list had been prepared and Peter was at it like a terrier. Marianne took up her important role as guard of the washing line (full sun, little wind) and we have never seen the house kept so clean.
Old friends
A week after Peter and Marianne's arrival, we had two old friends from our Amsterdam time pass through on their way back from a wedding near Orange. Christian and Saskia now live in southern Spain on a hilltop olive grove in their self-built hacienda. Chris and Sas are also pioneers, who decided to leave the rat race five years ago. You can read their blog here. P&M graciously went off for a few days visiting museums in Bilbao and San Sebastian with their old friends Flip and Mieke who were also passing through.
Old rubbish
Every now and then we have to load up the trailer and drive down to the council dump, or déchèterie as they call it here. The guy that mans it knows us well by now. We have arrived with all sorts of stuff we have found or finished with. This time it was with rolls and rolls of old wire we found piled up under a walnut tree, an old wire bed frame and loads of empty cement and lime bags. Next week we will be there again with the discarded odds and sods from our bathrooms project.
X-Rated shopping
Perry had a weird experience when shopping at the local supermarché. He was picking up some alcohol to conserve fruit when he heard the next song come over the tinny speakers in the ceiling. It was a sort of Frank Sinatra number but the words were definitely more risky. "I'll dial you up with my dick and come round and stick it up your a*£e, tell ya daddy you like it doggy.." and all sorts of other sordid, pornographic texts. Perry cracked up laughing as he looked around at all the French ladies shopping and realised that they were totally unaware of what was being sung. It was the only time he felt like seeking contact with someone English, just to share the joke. Obviously some mischievous music editors had decided to liven up a boring day at work.
Cherry picking
The storms and cold snaps broke off or froze the cherry flowers this year. A normally abundant crop was reduced to a few small buckets full of sad looking fruit. The rest went to the birds. While taking a walk, we were invited by Ernest, who was in his vegetable garden, to take what he had in his trees. They too were bruised from the hail, but there was just enough to make four small pots of cherries in eau de vie.
Mushroom hunting
A few days later, Perry was invited to join Ernest to go hunting girolles. These are a bright yellow orange and always appear just after a new moon. Perry was up at 06:45 on Sunday morning and the two of them drove off and climbed up into the local woods. Boots, basket and stick in hand, they found nothing for an hour, Ernest was heard off in the undergrowth cursing "Putain, merde il n'y en a pas" that they were too late and that others had already had the lot. Then, as they descended along another route towards the car they suddenly found a rich seam of Girolles. Fifteen minutes later they came out of the woods with over four kilos of mushrooms. Perry was home in time to prepare a girolle omlette for everyone's breakfast and later prepared the rest in a light curry sauce.
This was the first of four trips we made. Each time returning with a basket full and then coming up with a new recipe. There are a few bags still in the freezer, but the priviledge of being invited to such secret locations will keep a lot longer.

Until next month,
A bientôt.