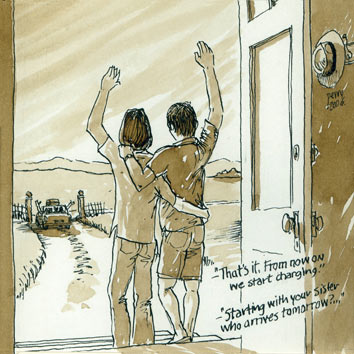 Cartoons about expat life in France are popular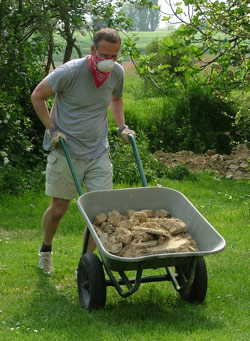 Huub: "Got any more walls I can demolish?"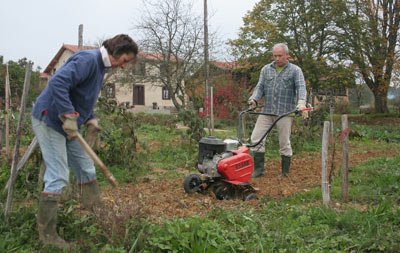 The Good Life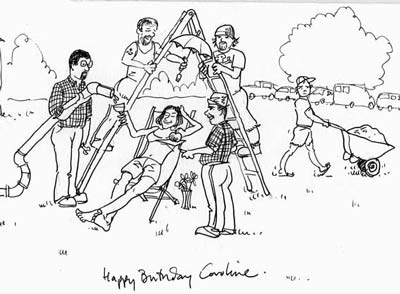 Caroline's birthday card from Perry, portraying the plumber, mason and builders. Perry is walking past in the background.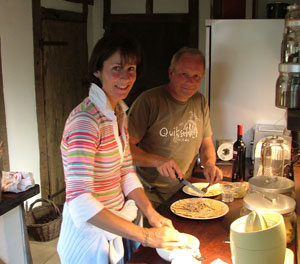 Weeks of hard work had us tired and hungry and with aching muscles we didn't know we had.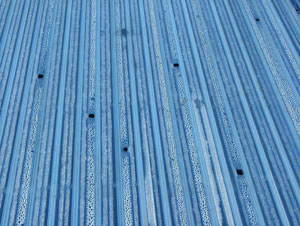 The hail ripped through our neighbours' swimming pool cover.
Exposing one's self in public
Monday morning and we're off to Domaine de Marmande, a chambres d'hôtes near Mirande. The owner, Caroline, has agreed to hang some of Perry's cartoons in their breakfast room. They have quite a lot of house hunting Dutchies and Brits staying, so the target market is just right. Then on to Palma. She runs Feet in France, an advisory service for people moving to France. She helps out on all the French paperwork, gives french lessons and translates. We left four different cartoons with her and within two days she was phoning for more. It seems that some of the cartoons have hit the spot. If we can get a wider distribution, we'll be laughing too!
A right mix up
Our first cement mixer. We proudly brought it home and parked it in front of the house, all red and shiny, ready for Terry and Simon to start her up and make its first wheelbarrow of cement. Then Simon noticed a crack in the seal. Back down the hill with the thing and two hours later the replacement was in front of the house again. Sadly too late to start up, so we lost an afternoon. Still, the sun was shining...
Drip
When the cement floor for the new bathroom was being laid above the kitchen, suddenly had an unexpected sprinkler system going off. A scream, then buckets and pots and pans clanking about. But you can read all about that in the Our House section.
Old door
Our new pioneer, Hindri, had an old blue door in his barn. We had spotted it, laying on the floor, on our first visit. Caroline didn't beat about the bush and asked if they wanted it. Of course we could have it! The dimensions were perfect, now our guest bathroom will have a rustic door of character. None of your modern rubbish!
Old friend
A friend of Caroline, Huub, asked if he could come and get away from it all for week. Seeing us rushing about with wheelbarrows and scaffolding, he got stuck in and helped demolish a wall and cart off the earth. Once he got started we couldn't stop him. He seemed to bring the good weather too, since we ate outside each evening by a log fire under the stars.
Old Dears
Caroline and our dear friend, Marina, share the same birthday. Marina invited us over for dinner. We were joined by a few of the usual suspects and had a fine evening. Marina's friend, Alain, had just returned from a three month trip in Asia and cooked us a delicious mix of Thai and Vietnamese dishes. The chopsticks caused a few accidents and laughs. Merci Marina!
The stripper
Two old doors that had originally hung in Ernest's farm up the road are going to lead a new life in our house. They needed to be stripped of several layers of paint. They will become the doors between the two bedrooms and their bathrooms. We elected to get them dipped instead of scraping away for days on end. So a quick dash to Lannemezan and a pick up the day after and they were looking fab. Ernest will now make the frames, weld some old hinges to fit and then we can fix them into the walls.
Hail storms
The vegetable garden was doing well, until the hail came. Two nights running it crashed down, turning lettuces and peas into mush. The weather can be extreme here, especially in the Spring and Summer. The last week of April saw sunny days and stormy, wet and windy evenings. The farmers warn us not to put in our tomatoes until 15 May, for this very reason.

Until next month,
A bientôt.