Didier between Julleke (an old friend and IHT-er) and Caroline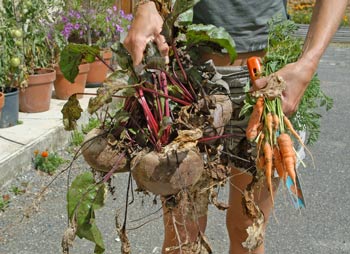 Despite, or because of, a wet and variable year,
Caroline's beetroots and carrots were an enormous
success this year. The peas and tomatoes were a disaster.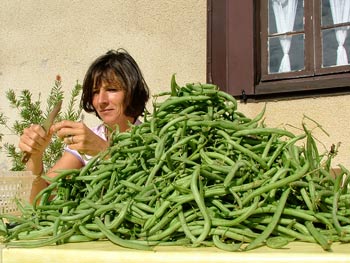 We started knitting with the stuff in the end!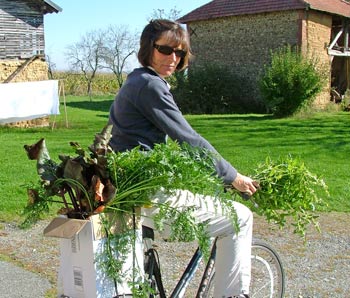 Caroline on one of her regular trips, giving her excess veggies
and herbs away to the neighbours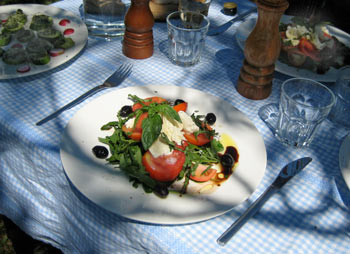 But your own fresh basil, rocket and tomatoes take a lot of beating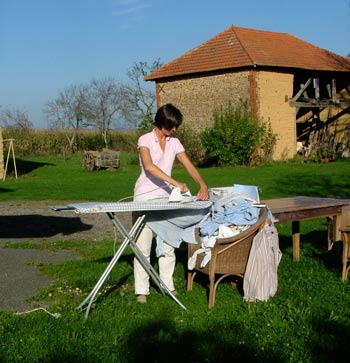 Even in our little paradise, the daily stuff needs attention, even
if it is done at the end of a very long extention lead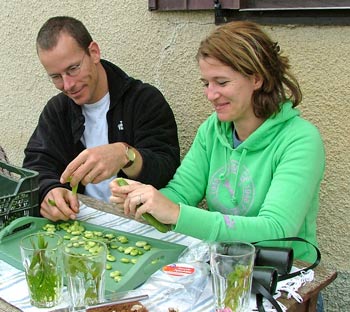 Diederick and Lilian get roped into popping their own
broad beans for dinner
Dancing lessons
With the longer evenings we decided to join a dance class. Salsa and rock. The first evening saw a lot of left feet stumbling over the floor. French, English and Dutch in the class, there were few with the rhythm or coordination required, as we tried to follow the leader. But gradually we loosened up and started to swing. Now each Monday evening we are to be seen doing our stuff and still getting it awfully wrong.
I do, I do!
Two of Caroline's old work colleagues from the International Herald Tribune Paris office decided to get married. Didier (French-Swiss) and Monica (Irish) found a beautiful church and chateau for the proceedings, about an hour or so south east of Paris, in the Bourgogne. An eight hour drive for us from Puydarrieux. The ceremony was in two languages and the evening was fantastic. We have never seen such a gathering of beautiful people at a wedding. A cosmopolitan blend of nationalities and cultures, Irish music and dance, Greek dancing by the best man and a tear-jerking speech from Monica's father. All this in a beautiful setting. Well worth the trip to see the two of them get hitched.
Allez les Bleus, come on England!
On the way back, we pulled off the motorway at Uzerche, to find a café to watch the England quarterfinal match against Australia in the Rugby World Cup. No way Perry was going to miss that! A nail biter to the end and a happy Perry to boot! Seeing the time, we decided to find a hotel and stay over for the night. For dinner we ate moules et frites at a great little restaurant at the top of the village and were served by a Frenchman who had once lived in the English midlands. It was very weird listening to his Birmingham accent. Moving to the café next door, we watched France battle against New Zealand. The hushed bar watched in agony as the game went on. As the final whistle blew the place went wild, the French were through, to play against... England.
Via Bregtje and Paul
A few years ago we were contacted by Bregtje and Paul, a Dutch couple who read about us in a magazine article. Two years ago they found a great place in a buzzing town called Saint Antonin Noble Val, in the Tarn-et-Garonne. We kept in touch and decided to pop by during the last leg home. It was good to finally put faces to the names. We did a quick walk around the town and had a beer on a terrace. The architecture, river and bridges, the cafés and shops, made us a little jealous when compared to our little Trie-sur-Baïse. But we will go back again I'm sure. Thanks for a warm welcome Paul and Bregtje, en tot ziens!
Dancing with a stranger
The next week saw us at the café L'Ancien (the locals call it Le Moderne) for the England v France rugby match. A 50-50 mix from both camps crowded into the bar. The tension was electric, but when England won with a few points to spare, Perry bought the French guys a round. In return, one of them gave Caroline a dance lesson around the bar. He had her twirling and spinning and Perry could just watch and admire. The beers flowed back and forth for a few hours more and Sunday morning was a slow, quiet affair involving lots of comfort food (boiled egg and toast, marmite, pot of tea) and some light classical music to soothe the brain.
Holiday? What holiday?
You may think that we live permanently in a holiday mode. We live in the south west of France, so we must be drinking rosé every day in the dapple shade, watching our vineyard grow. Yeah, right. We decided to take a week out and just be at home, for ourselves. Take time to smell the flowers and not be continually on the go. Fat chance. The emails and work kept pouring in and Perry was chained to the Mac. Caroline thus started plastering the walls of the mezzanine, since we obviously weren't going anywhere. Next year it will be different. It needs to be. Caroline needs to have something else in her life than catering for the incessant stream of guests, renovating and the coordination of third parties as well as just the day to day maintenance of the household and garden and being Perry's back office.
Bruv and his missus
Caroline's brother Diederick and his wife, Lilian managed to arrange a week away from their two young children. They smuggled themselves to Pau and we had a fine time in the glorious Autumn sun. They went into the mountains and we took them to see our neighbour, Sophie for a tour of her black pig farm. Diederick is a vet, so he found the whole thing fascinating. Lilian loved pottering in the vegetable garden,(pulling out the wrong plants...) reading quietly in the sun and the two of them indulged in sleeping in every morning (a non-existent luxury with two little monsters at home).

Until next month,
A bientôt.