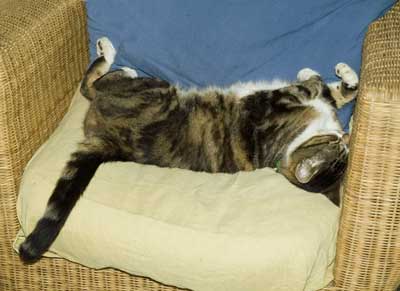 The neighbour's cat pops in now and then for a quiet snooze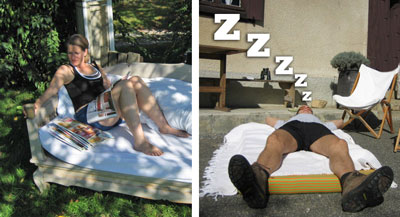 Lilian and Diederick came to chill. They succeeded!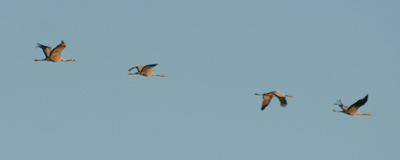 Cranes descending to the lake in the last of the sun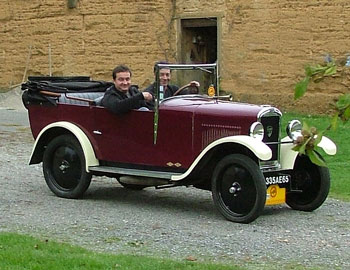 Our neighbour's pride and joy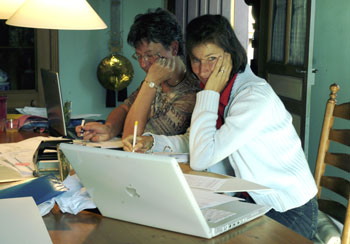 Caroline and our book keeper Janine rounding off the figures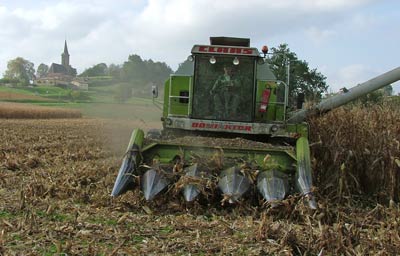 Monsieur Lacaze doing one of his last runs in Puydarrieux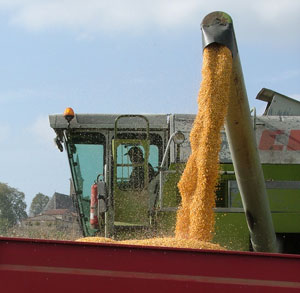 Each wagon holds 2000 litres of grain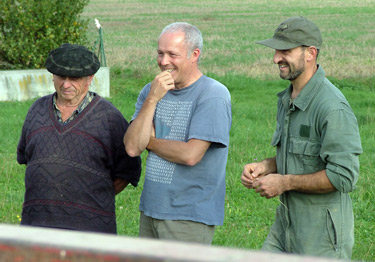 Monsieur Maumus, his son and Perry watching the harvest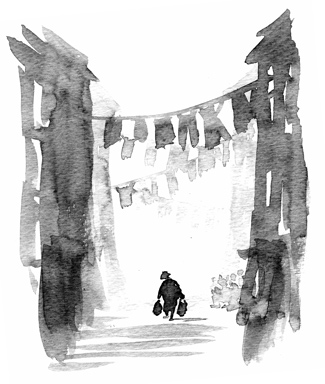 One of Perry's illustrations for Dickie's soon-to-be-published book
All quiet on the building front...
You could hear a pin drop (as opposed to a large hammer or bag of cement). Finally, there were no builders around the house. We could sit on the loo with the door open, looking out over the valley, without worrying that the electrician could hear all our bowel movements. Bliss. Total bliss. Time to take in why we had moved here in the first place. Nature, peace and glorious weather. Apart from the odd project, we also tried to ignore the emails for a few days. Almost managed that too...
Diederick and Lilian
Caroline's brother, Diederick and his wife, Lilian managed to get a long weekend away from their two kids, in Puydarrieux. We felt honoured that such a unique moment was to be shared with us. Diederick is a vet and works all sorts of weird hours, bringing animals into the world, as well as helping them out of it. Lilian has a full-time job looking after Inez and Tom. So we were set for a few days of rest and relaxation, walking, eating and sleeping. Yes, lots of sleeping.
The weather behaved itself and we enjoyed some glorious days, snoozing in some part of the garden, having lunch in the shade and a spectacular walk in the Pyrenees.
First cranes
The day after Diederick and Lilian left, we heard a familiar sound coming up from the lake. The first of the Grey cranes had arrived from Russia. A few days later we walked down, binoculars in hand, to see 13 of them on the water's edge. By January they had increased to over 600. It is only since the river was dammed about 20 years ago and the lake appeared, that travelling birds stop off here. There is a reserve surrounding the water, stretching into the woods where one can watch the seasonal visitors from afar. Ornithologists and large school groups are often seen throughout the year.
Old mate, new neighbour
Perry's best friend, Malcolm, came for a second visit. This time with a plan to buy. He and his wife Linda had arranged several meetings and visits with local estate agents. Perry and Caroline went along to see a prospective property at the end of the week. It turned out to be a place we saw two years earlier. The new owner had decided that renovating was not his idea of a holiday, so it was up for sale and he had bought a place up the road that needed no work at all.
We lent Malcolm and Linda our relatively experienced eye, checking the roof, septic tank, plumbing, rising damp and guttering. Offering advice on raising roofs and lowering floors. Knocking through walls and listing a few artisans that could do the job.
They went back to the UK to think it over and finally called to say that they had made a bid and it had been accepted. Suddenly the reality of having a mate from London living just around the corner hit Perry. It will be great to see them here, but it will be so completely different to their existence when they were both working together and partying in the advertising world. He can't wait.
classic car visit
While Perry was away one day, a neighbour we had met at a village gathering a few months before, drove up to the house in a beautiful vintage car. It was a 1930's Peugeot 201. Having discovered that Perry had a classic Peugeot 504 coupé, he wanted to show off his baby. It was one of several vintage and classic french cars that he is renovating. Caroline popped off a few photos for Perry and tried to retain all the information about the car. Perry will have to pop by and see it for himself some time.
Bookkeeper
October is also the beginning of the fourth financial quarter, thus time to send in the figures for the third. Our bookkeeper, Janine, came by to round off the TVA (VAT/BTW) and other stuff. Janine gives us good advice and takes a lot of the burden from Caroline's shoulders when it comes to dealing with the French bureaucracy and rubber stampers.
The end of an era
Madame Lacaze comes by with gas bottles whenever we call. She must be in her late sixties. Her husband sows and harvests for many of the farmers in the area. He has enormous, specialised vehicles that he drives from farm to farm, his wife driving in front in a little van with flashing lights to warn oncoming traffic that there is a four meter wide monster in the middle of the road. This year is his last season. We were priviledged to see him doing his last rounds at the bottom of our lane. We joined Monsieur Maumus and family as their wagons were filled with maize grain, ready for the cooperative up the road to process and sell.
Dickie
Alongside the design projects, Perry had been working on a book with Dickie Tryon. Dickie, a pioneer resident of the Gers, had written a large selection of short stories in free verse. They tell funny, sad, emotive, moving anecdotes of encounters in his life. Perry illustrated many of them and designed the book's layout. Having seen the first draft, there will be a few tweaks and the book will be officially launched early in the new year. Don't worry, you will all be heavily informed of it's publication!!!
Socket to me!
OK, so we didn't go a full month without having an artisan in the house. We lied. The electrician had time between two jobs and came to rewire the study. It still had the old, unearthed wiring and we thought that was having an adverse effect upon our computer. You can read all about that and other stuff in the Our House section.
Until next month,
A bientôt.