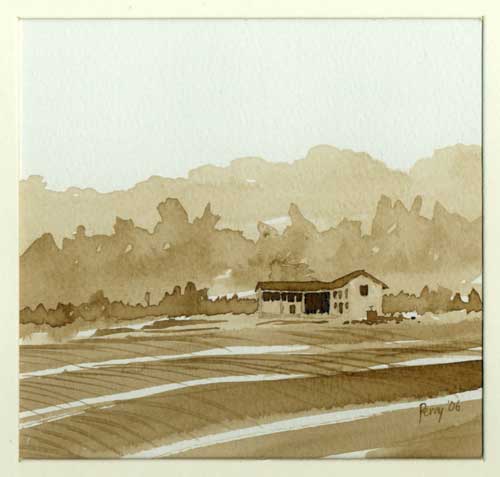 Perry's ink drawings and watercolours are mostly quite small,
so that'll need a lot of paintings per square metre. This one's sold by the way.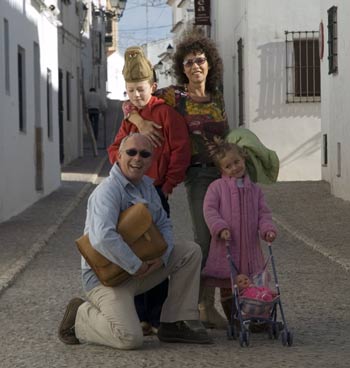 Perry with Mandy, Oliver (with Perry's camera case on his head?!) and
Amelia in Altea. A beautiful pueblo blanco, overrun by tourists most of the year.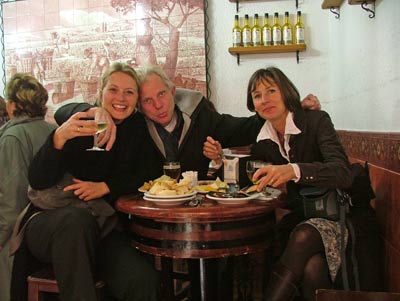 Living far from the sea, we stuffed ourselves with wonderful squid, octopus, mussels, razorfish, prawns and lots of alioli. Ooh, to think that Chris and
Saskia can do that every day. Oh no, I'm drooling again.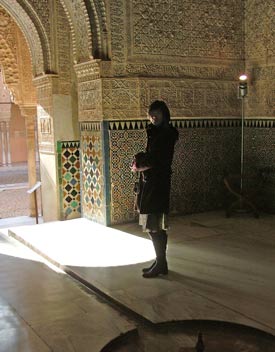 Caroline in the Hall of the Two Sisters. The walls and floors, arches
and windows are so beautifully carved and amazingly intact after
centuries of occupations and neglect. The play of light is magical.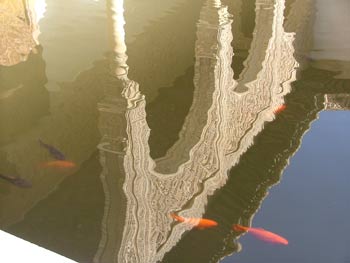 A peaceful oasis above the bustle of Granada. A very chique city with
great shops and tapas bars.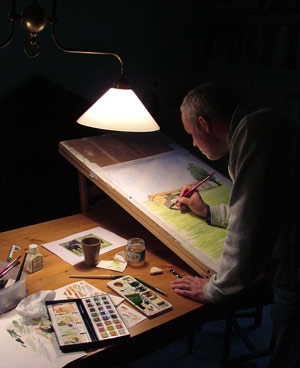 Burning the midnight oil at the dining room table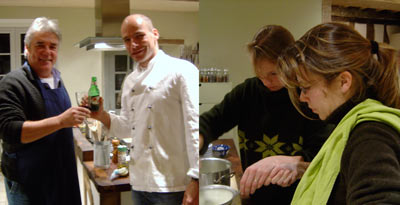 Marc, Jeroen, Jacqueline and Stephanie get stuck in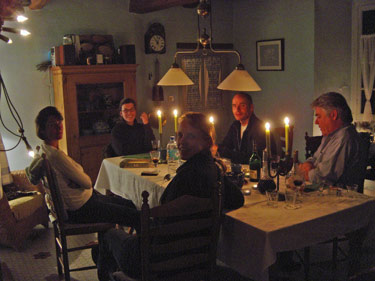 After five days, we were ready to let off the fireworks and go to bed
long before midnight. Luckily we lit a bonfire outside and were star gazing
into the early hours.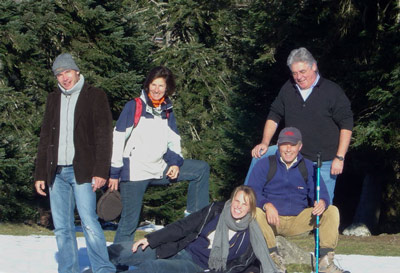 Building up an appetite for yet another grande bouffe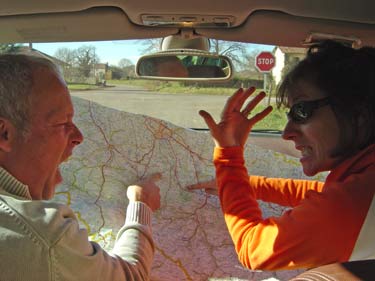 Even choosing which bathroom showroom to visit first can cause problems.
That's a big wall...
Perry was invited to exhibit his work at a local gallery. A month before he was due to show, we were invited to the opening of the exhibition preceding. A painter and a photographer covered two walls. Two long walls. Perry realised that he needed to make a lot of drawings to fill the space. But you can read all about it on his personal notes page here.
¡Hola Mandy!
It was a trip we had promised ourselves for ages. Spain. First to Perry's youngest sister, Mandy, who lives in a small hill village called Bolulla, near Alicante, with her husband Adrian and two children, Oliver and Amelia. We timed it for Amelia's birthday party on the 6th and Mandy's on the 7th. They have bought a house just outside the village that they are renovating and hope to move in in the Spring. It is surrounded by orange, lemon and mandarin groves. The sea glistening in the far distance.
¡Hola amigos!
A few days later we drove down the coast to Coin, west of Malaga, in Andalucia. Old friends from Amsterdam, Christian and Saskia, moved there four years ago. Bought a hill and built a house on the top of it. From scratch. It is a fantastic house, with great views and olive groves all around. Very different to our 200 year old house, they could create a home exactly as they wanted it. While there, we went to Ronda and Malaga, visiting the old town, Picasso's museum and a great tapas bar.
We found that we could compare notes on living the expat life. Language, customs, paperwork, neighbours, coping with visiting friends and family and adapting to life in the slow lane. Like us, they have a five kilometer drive for the essentials, but the track up to their house is a lot steeper than ours! Saskia keeps an online blog all about their life there. You can see it here.
Alhambra and Granada
Being so close, we couldn't miss visiting the Alhambra. Built by the Moors more than 800 years ago, it was their last stronghold before the Catholic monarchy conquered Granada in 1492. What strikes you at once is that it is incredibly well preserved. The ornate carvings in the ceilings, walls and archways are in almost pristine condition. The play of light off ponds, fountains and marble, the cool, shaded courtyards and gardens all hint at a very sophisticated culture in an inhospitably hot climate. Truly a great wonder of the world. Not to be missed.
Exposing oneself
Returning from Spain, we had just five days to get Perry's exhibition ready. Shame he didn't have anything to frame...Always seeming to work better under pressure, he pulled the stops out and had 19 pieces framed and hanging just four days later. For all the details and photos, go to Perry's notes, here.
Dreaming of a very quiet Christmas
Christmas fell two days after the exhibition. We bought a few extras and had hung a string of lights over the fireplace. But we decided to have a quiet, no fuss, present free, stuffing free Christmas. Bliss. Our only indulgences were a couple of BBC DVDs. Planet Earth from David Attenborough and both series of The Office. One made us think, the other made us laugh.
Incoming!!!!
Of course, the real reason we didn't go overboard for Christmas was that Caroline's brother, Jeroen, and her three cousins, Marc, Jacqueline and Stephanie arrived on the 27th. May the drinking, eating, farting and 'beat the intro' competitions begin! So began five long days and nights of delicious meals (often outside in the sun), snowy mountain walks, a round of golf, dinner at Thierry's auberge, refreshing bike rides and several emergency trips to the wine shop in Trie.
It was great to have Stephanie here for the first time. The others had been a year before and could appreciate the work done in the meantime, especially the new kitchen.
Sleeping arrangements were rather makeshift. Stephanie on a mattress in the living room and Jeroen amongst the rubble and mice behind the temporary guest room, where Marc and Jacqueline camped out. Guys, we had a ball. It was rather quiet after you left.
Happy new year
The tradition in Holland is to fire off an enormous amount of fireworks at midnight. If you have ever been to Amsterdam for new year, you will know that it resembles Beirut, Bagdad and a WW1 bombardment all in one. Thankfully with slightly less casualties. Our visitors were determined to at least find a token rocket for the occasion. Finally, they spotted a young lad with a few rockets. Five minutes later they returned with a small bag and a large smile. Dinner was a gourmet affair and all were happily chopping and stirring to loud music and lots of clinking glasses. At midnight, the fireworks were lit. All rather disappointing little fizzes and bangs, but fun none the less.
Our first full year at Puydarrieux was peppered with a few fizzes (just the odd cork popping) and lots of bangs (from hammers, drills, shovels and pipes). We celebrate that our relationship and nerves survived the work, the uncertainties and changes in our home and social environment. It hasn't been easy, but we had loads of moments that made it all worthwhile. Now to start on the bathrooms...
A healthy and peaceful year to you all.
Until next month,
A bientôt.