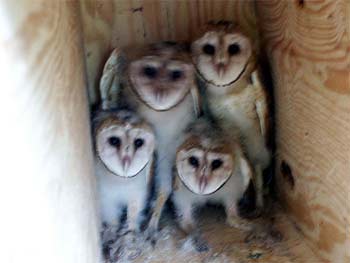 Those noisy kids upstairs. This is what we think we have in the attic
(Image borrowed from www.awrc.org )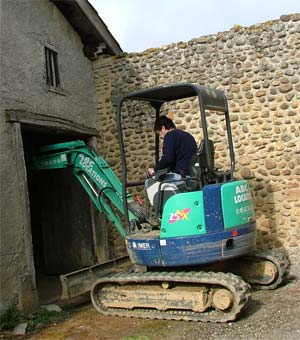 "I thought this was a cabriolet!"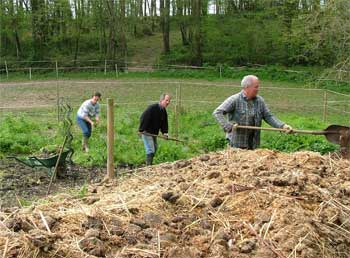 Claire and Gerard have a great natural resource for their fruitful jardin potager.
Five horses produce tons of manure per year. No shit!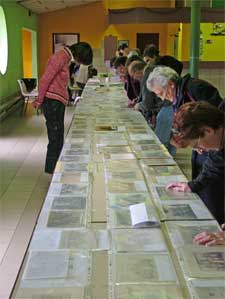 Our neighbours finding themselves and loved ones staring back at them from the past.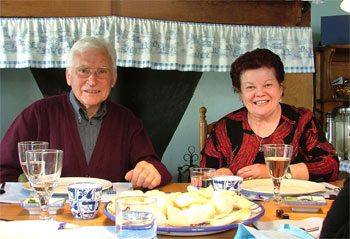 Odette and Marcel were also celebrating 50 years of marriage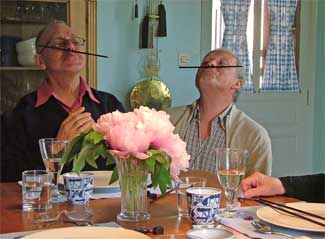 The Confucious Brothers were up to their old tricks again

We saw a family of seals in the bay behind us,
as we ate lunch on the cliffs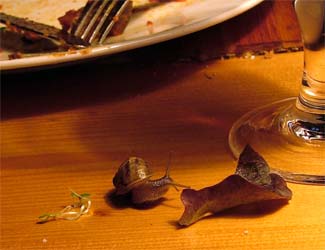 "Are you sure you washed the lettuce?"
Harry Potter, eat ya heart out
The barn owls are back. They have been screaching and scraping about in the attic above our bed for over a month. We had a wonderful moment one evening, when we were looking out of our bedroom window at the moonlit, starry night. A barn owl flew right past us, within a few meters as it swooped up to the nest hole, just under the roof. The young chicks must be walking about by now. We have found a webcam that shows just what should be going on above our heads each evening. You can see it here. Next year, we plan to set up our own owl box in the attic and add a webcam.
Mind your heads!
Pierre came to help us dig out the clay floor of the chai. We had hired a mini digger to do the job, but we couldn't remove the roll bar and so were not able to get in the door. A day lost, but we at least could dig out several holes around the grounds in preparation for our new fruit trees.
Off to the Pepinerie (nursery) for three apple trees, a cherry, pear and walnut tree. Artichokes, blackberries, lavender and lots of manure. The trailer pays its way yet again.
Shovelling shit
Talking of manure, our vegetable garden needed a little help before we started planting the seeds and Caroline's carefully nurtured collection of self-grown plants. Our friends Claire and Gerard, who live close to our old pavilion accommodation near Mielan, have horses. They offered us some super fumier (manure), so we went with shovels for a trailer-load of extremely fertile earth. We were invited to stay for lunch, which made the job of pushing the wheelbarrow up their steep slope seem a lot less like hard work.
Lest we forget...
There was a great initiative to make sure that village histories do not disappear with the older generations. Three of our elderly neighbours have died since our arrival and the stories and knowledge go with them. One weekend, there was a Raconte moi mon village (Tell me about my village) exhibition. Residents were encouraged to search out old photos and documents that showed village life. We went along with a first communion certificate from 1926 we found in a frame in the attic. On the day, there were hundreds of photos of weddings, hunts, rugby and football teams, harvests, days out and school and military portraits. It was fascinating to see the elderly and middle-aged neighbours as children. Weddings of their forefathers, village life over a hundred years ago. Unfortunately we didn't find out any more about the history of our house, or the inhabitants before the last world war. They took their stories with them to the grave.
Celebrating a half century
We invited our neighbours, Odette and Marcel and Maryse and Dédé (the old owners and Odette's sister and brother) for Easter Sunday lunch. Caroline had promised to cook asian food for Maryse, so today was the day. Chinese crab and asparagus soup, Thai chicken curry and Vietnamese coconut crême caramel. All new to them, as were the chopsticks that lay next to their plates. They all were game to try these new utensils, with mixed results. A day made more special when we heard that Marcel and Odette were celebrating their 50th wedding anniversary.
Returning the compliment
The next day, Maryse called to invite us for a family lunch. Her brother Eduard (from whom we had bought the bottom field) was there with his wife Lilly. This time it was a more traditional fare of foie gras, lamb and some delicious liqueurs. We waddled away quite stuffed at 5pm to find the builder, Terry and his wife, waiting at the front door. We had planned a pre-production meeting before he started on the back kitchen. Having set out our plans and organised the job, they left us to take an early night without need for dinner.
'Allo my old cornish pasties!
Perry's old friends Austyn and Amanda left the London rat race and bought a cottage holiday business at the most south western point of England, in Cornwall. They asked Perry to design their annual brochure, so we went there for a work and play week at the end of April.
The coastal path of cornwall is stunning. Cliffs, beaches, sheltered fishing harbours, birds, tin mines and granite cottages. We stayed in Mousehole and had a great time with Austyn, Amanda and their son, Oliver. It was good to get the feel of the area and discuss the plans for the 2007 brochure (over some serious food and several bottles from Austyn's excellent wine rack). At the end of the week, we drove an hour up the coast to Wadebridge, where Perry's mum and step father were staying for a few days. They are looking for a house in the area and from our trip, we can see why they love it so much. If it wasn't for the complicated and time-consuming flights, we'd go more often.
Homesick
Despite having a great time in Cornwall, we couldn't wait to be back home. Even though we knew that the idylic peace would be broken by drills and diggers as soon as we got back. We can't wait to see our ideas in action and have our kitchen finished. One day to unpack and orientate ourselves and then the attack began. Pierre came to man the mini digger (this time with removable roll bar!) and we all worked hard to clear the chai of at least 20 cms of earth, cement and stones. Read all about it in Our House.
Thick and fast
In our absence the vegetable garden had been taken over by a multitude of fast-growing weeds. We had to fight back on our hands and knees and it took a week or so to clear the unwanted growth and get our tomatoes, potatoes, red peppers, carrots and radishes in the ground. Now we have a big watering operation on our hands, but it will be our own produce, without a drop of weedkiller or chemicals. In fact, our first strawberries are deliciously sweet!! (and our salads rather crunchy - see picture left).
OK, that's all folks. The house and garden will be changing rapidly over the next few months, so keep tuning in.
Until next month,
A bientôt.