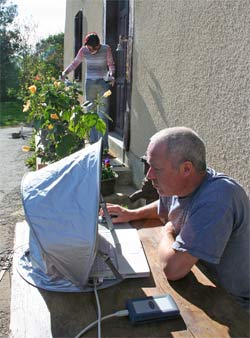 It was often warmer outside than in.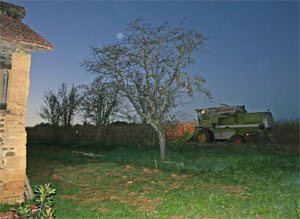 Christian harvested his maize crop in just one evening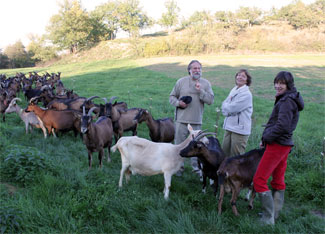 Getting the guided tour, Chez Romain.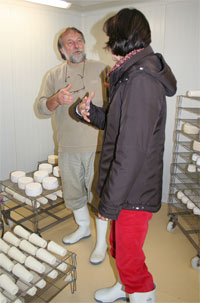 Romain explains the whole process from goat to shop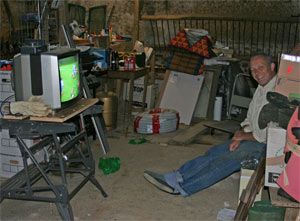 Caroline wondered why the hammering had stopped...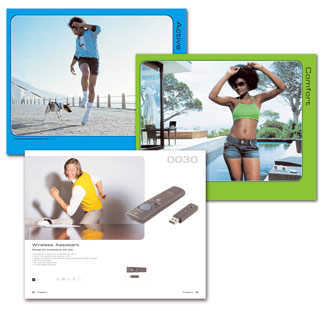 A photo shoot in South Africa. It's a dirty job, but
someone's got to do it...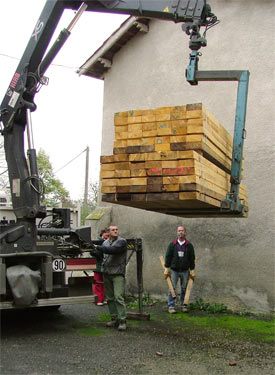 The beams for the floor above the kitchen arrive.
Winter sun
November was surprisingly sunny and warm for a lot of the time. We lunched and worked outside as much as possible. Our garden furniture and potted plants were moved to the Antoinette barn to protect them from the winter frosts and rain. The parasol was wrapped away and any free moment was used to saw and chop the logs to fit our two wood burners.
Harvest
Our farmer, Christian, arrived one evening on a huge harvester. Within a few hours he had cleared the five hectare field of 2 metre-high maize and the next morning we could see the church of Puydarrieux Lapène for the first time since July.
Whilst Perry's away...
Caroline and her parents went to visit Romain, a goat farmer in the Gers. He showed them his herd and stables and how goats cheese is made. We had already met Romain and his wife, Jacqueline, whilst dining at our friends, Eric and Elisa. There, we tasted his assorted cheeses with dustings of cardammon, ash, thyme and bay leaves. Delicious! Unfortunately for Perry, he was in London being briefed for a project, so he missed out on yet another evening of Eric's culinary delights.
Cheese please!
Romain decided to leave the rat race more than twenty years ago and now supplies goat's cheese to the best shops in Toulouse, Pau, Paris and even Germany.
Rugby mad
The sound of hammers and saws rang out as we all did odd jobs around the house and grounds, until it all went quiet in the barn. Perry had found an old TV and was discovered watching France play Australia in the three-nation rugby championship. Caroline's mother promptly appeared with a glass of beer and a bowl of Pringles for him. He later came into the kitchen, blue from the cold, but a happy bunny.
Whilst Perry's away 2
At the end of November, Perry flew to Cape Town to art direct a photo shoot. As usual, it was a hectic, non-stop dash for six long days. The concept involved 1970's styling, so it was all afro wigs and flared trousers. You can see more of the final product and what else Perry has been up to at his BagMag site, here.

The trip was perfectly timed to fit in with the replacement of the floor beams above the back kitchen. Until the shoot dates were changed. Caroline had to brave the cold, walking around the outside of the house to get to the toilet and shower each morning, all on her own! Read all about that in the Our House section.