Marco and Marike bring their tart to herald the new year.
New Year's day
The new year arrived in a burst of sunshine and a warm south westerly breeze. We had breakfast outside and continued the day out in the sun. Our friends Marco and Marike arrived at eleven for coffee and left at three after a fine lunch of quiche, olives and white wine.
That evening we ate a smoked duck salad. Half an hour later, Caroline started having difficulty breathing, her throat seemed to be swollen. Caroline has a allergy for anything latex, so she thought that the duck had been handled with latex gloves. An hour later she took antihystamine tablets which didn't seem to help and since breathing was becoming more difficult, she asked me to get her to a doctor.
Not knowing who to call, I drove us to our neighbours, Gerard and Claire. Waking them from their slumber, they advised us to go to the Pompiers (fire brigade). We saw no light or a bell there, so we drove to a phone booth in Miélan and called the emergency number. Caroline explained her condition and was told that the local doctor would come to us. Caroline began to shiver uncontrollably.
Less than ten minutes later, we saw blue flashing lights turn the corner. A fire brigade ambulance arrived. Three men stepped out, including a face we knew from the Club de Chasse dinner a few months back. Caroline refused to get in the ambulance since latex particles are everywhere. Her shivering stopped and she began to feel better. Next, the doctor arrived, saw how Caroline was and asked us to follow him to the clinic in the village. Just as the doctor was filling in a few forms, the doors burst open and a paramedic team from Tarbes (35kms) stormed in with oxygen and first aid equipment. Obviously Caroline was not in danger and they left after having insisted on seeing Caroline take some more antihystamine pills.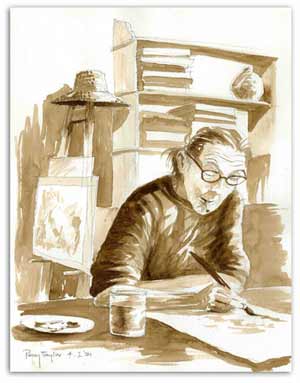 The Drawing Club meets up at members' houses since the closure of the café in Marciac. This day we found ourselves Chez Denise.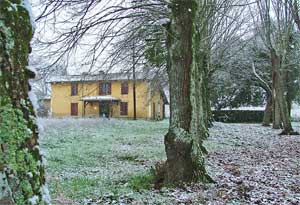 Maison a Joli in its winter feathers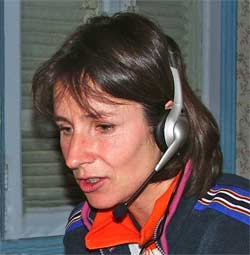 "Two can in France, how can I help you?"
Home just after midnight, we had a bad night's sleep. This was the beginning of a tour of several departments of the French medical services. We were very pleasantly surprised to see how the emergency services, even in the country, are fast and efficient.
A few days later we went back to the doctor (this time during normal visiting hours) and Caroline explained that the feeling was still in her throat and chest. We were refered to an ear, nose and throat specialist who, after sticking a tube via Caroline's nose and into her throat, refered her to lung and heart specialists. These visits included heart monitors, lung scans, and all sorts of other tests. All negative. Finally Caroline underwent an gastro endoscopy (a camera on a long tube that goes down to your stomach). This was done under a general anaesthetic. Again, negative. The advice is that she must learn to live with the feeling and perhaps it will get better.
Perry had his share of health hiccups. During the stressy build up to the trip to Holland and South Africa, he began to get excema on the back of his knees. By early January, he was covered in it. Thankfully he was able to get a swift appointment and was quickly smearing in great handfuls of cream that began to clear up the problem within days.
We are very impressed that we did not have to wait for weeks or months to see someone. Caroline did all the tests within three weeks. A tribute to the French health service.
In the meantime we had received several phone calls from our soon-to-be neighbours in Puydarrieux. They were rather keen to meet us and discuss the selling of a couple of hectares to them, for their beef cattle. Finally we visited and informed them that we would rather move into our house before we start selling bits of it off. It won't be the last we hear about this, I'm sure.
Our landlady, Nieke, went to Spain for a few weeks and asked us if we wanted to move into her house during her absence. We grabbed the chance to be warm, have a bath and have more than one room to live in. Just in time too. A week later the temperature dropped under zero, stayed there for four days and the snow that came with it, stayed on the ground. Quite unheard of in the Gers.
Our poor neighbour, Mr Fourcaut, has just sold his farmhouse and is now living in an Intermarché container on wheels, across the road. He must be frozen. He will be staying there until his new house is built. Once the planning permission comes through that is.
We visited Auch and Tarbes many times during January. To see doctors. It at least gave us a chance to visit several kitchen, bathroom and electronics shops to orient ourselves for when we finally get the keys.
Finally we bought a headset so that we can phone using Skype, without bending on our knees to hear the little speaker in front of the computer. We also just heard that ADSL will be arriving in Puydarrieux about the same time that we do. No need to buy that satellite dish then!
Until next month,
Perry and Caroline