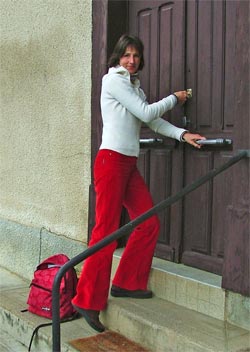 The moment we were waiting for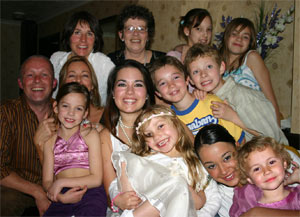 Perry's mum, Rhona enjoying her surprise.
Most of the little ones also knew nothing until the last minute. Imagine trying to keep this lot quiet!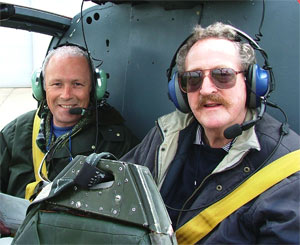 "Chocks away, Ginger!"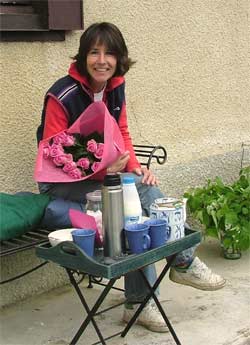 The birthday girl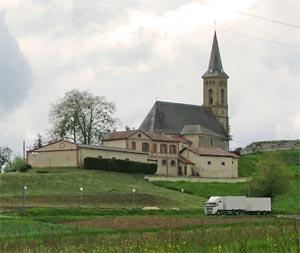 Our furniture arrives in Puydarrieux.
Signed, sealed and delivered
On April 2, we helped Madame Montegue and her family, move her furniture to her new home in Libaros, a village 4 kms away from Puydarrieux. It was an emotional day for them all. It felt strange, but it also brought us closer. Three days later, we signed the acte authentique and received the keys. Caroline and I drove to the house and opened a bottle of champagne, inviting a few friends to share our moment, before we closed up and went to Miélan to pack.
Table for 31, please.
Packing, not to move in, but to fly to England to surprise Perry's mother for her 65th birthday. She thought that it would be a tea party with a few grandchildren, followed by dinner with a couple of friends at a local hotel. She had no idea that all her children and their families had gathered from as far away as France, Spain and Mallorca and all 27 of them were hiding behind a curtain as she entered the room. The ensuing explosion of joy was fantastic. Perry's mother slowly putting together all the clues that she had not picked up during the last weeks. The next day, Perry had been offered a helicopter ride by a friend and invited Peter, his step-father along, as a big thank you for arranging the whole event.
Paint job
Having returned to France after a 4-day UK trip, the next morning saw us arriving early in Puydarrieux to start cleaning and painting the house before the removals truck arrived. The wallpaper was quickly painted over until we can get the damp out of the walls. In fact, the walls are so damp that most of the paper started peeling off the walls, showing the earth and wood the house is made of. The large barn was cleaned out and lined with wooden palettes and a week later, our furniture was seen on the horizon.
One, two, heave!
Our removals team, Joery and Harrie, arrived the 19th around 4pm and manoeuvered the twin container inch-perfect under the trees so we could unpack the first of the two. They had the honour of sleeping in our house for the first night, while we returned to Miélan. The following day, we emptied the second container with Perry's stuff, which mostly ended up in the barn until more space can be created in the house. Over the next few days we unpacked boxes like kids at Christmas, accompanied by lots of oohs and aahs as forgotten articles came to light. Finally on Saturday 23 April, we spent our first night under our new roof. Thankfully, we had been warned about the owl that walks about in the attic at night.
Changing departements
We weren't just moving in, we were also moving out. It took several trips with the trailer and a few days to clean up and leave the pavilion just as we found it. After a last visit to Jake and Elwood's graves, we gave Nieke her keys and became official residents in the Hautes-Pyrénées. Having crossed the border, we had to change our Cartes grise and car number plates. Not to mention reregistering for our tax, pension, social security and insurance.
Bon anniversaire
We celebrated Caroline's 40th birthday on April 25th. She was very busy, since there were flowers delivered and the telephone, SMS, Skype and e-mail did not stop the whole day. Because absolutely nothing is open here on a Monday evening, we had a delicious champagne and roast duck at our own dining table, which was a gift in itself. But little did Caroline know what was in store...
click here to read the rest of April 2005