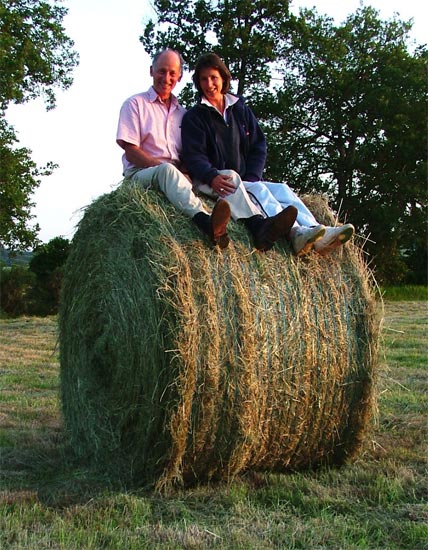 -Uh, how do we get down?
- No idea, just keep smiling!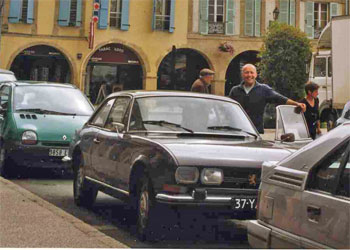 The beast returns. Oh, and the car arrived as well.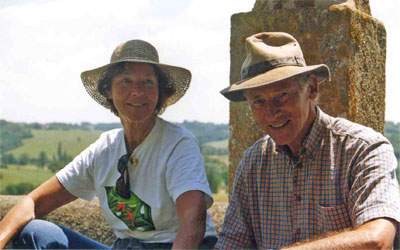 Happy 40th wedding anniversary, Peter and Marianne!!!!
1-7 June
Look out, look out there is an in-law about... We expect the whole family in the next few days. Caro finds it hard to hide her excitement. Perry had decided to take part in a "vide grenier" at Mazeres at the end of the week. So we went there to find Barbara's house in front of which she would leave a table on Sunday for us to set up our stall. We also took some reference photos of the village and its church. The idea being that Perry could make some watercolours, ready to sell on that Sunday. Arriving back home we saw a Saab parked in front of the house. Peter and Marianne, Caro's parents were hiding in Nieke's house watching our reaction as we stepped out of the car. An hour later, Diederick (Caro's youngest brother; the Master of Ceremonies at our wedding) and Lilian, and their little daughter Inez, drove in from their walking holiday in the Aveyron.
The family was complete when Perry heard the motor of his old Peugeot coming up the hill and Jeroen (Caro's other brother, you know the one with the Skybreakers website) pulled into the drive. Perry's combined expression of excitement and relief were impossible to hide. We dined on a Provençal dish called anchoïde on the terrace of our pavilion, out of the rain.

The rest of our time together was well spent at local markets, long hikes, showing the family a few house prospects and generally having a great time. Jeroen and Peter took their lives in their hands on cycling trips every day and on Thursday evening we went out for dinner to celebrated Peter and Marianne's 40th wedding anniversary.

Sunday morning saw Perry and Caroline up early to set up at the vide grenier in Mazeres. But their was no table in front of Barbara's gate, as was promised. Adopt, adapt and improve. We "borrowed" an ancient wheelbarrow and a broken door from the neighbour's barn, threw our sheet over it and set out our stall. We made our first and final sale, of 6 Euros, just 5 minutes later. But Perry did make an important contact with a paper importer looking for a watercolour artist.. watch this space.

Monday morning we went to Mirande to see Perry's drawings hanging in an exhibition, before waving Peter, Marianne and Jeroen goodbye.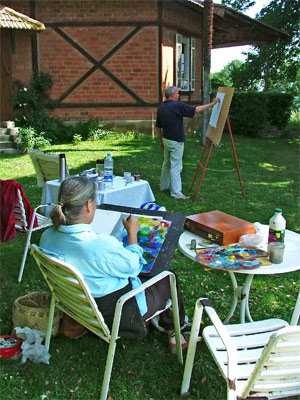 Barbara putting Perry into perspective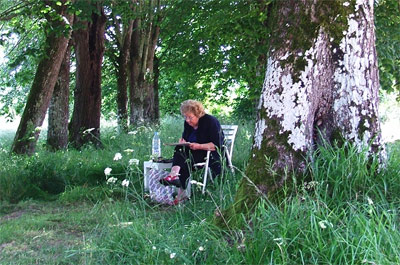 Dorothie, red shoes and a yellow-leaved drive...hmm, seems familiar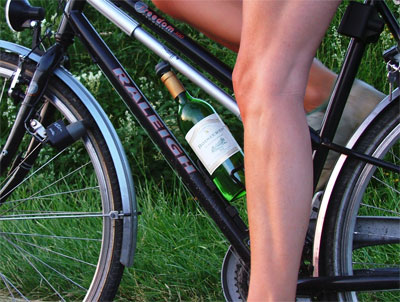 "Excuse me miss, would you mind blowing into this saucisson?"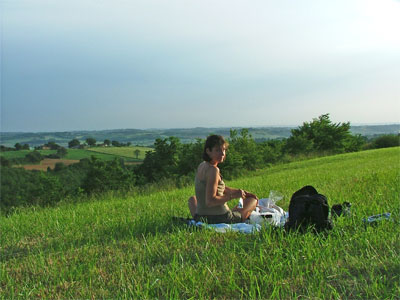 I hope you brought the opener...
8-14 June
We did a clean sweep of the pavilion after the invasion, just in time to welcome the drawing club that Perry had invited over for the day. The greenery of Maison à Joli making a change from the noisy streets of Marciac. We lunched under the trees and painted and drew until the late afternoon. It was the first time we had people over at our place and more importantly local friends! Meanwhile, Caro cycled to Miélan for bread and almost ran over her hairdresser, who came running out with a few house prospects in a village up the road.

You may think that it is all Pastis and parasols here, but we have been working very hard, not only trying to find a house, but trying to become legal citizens. Countless visits to the town hall in Miélan, writing letters, translating documents and generally trying to get all the paperwork together from numerous organisations using a telephone card, Nieke's ancient fax and French keyboards at the internet café. It's enough to turn you grey, except that in Perry's case that has already happened, so Caroline is now beginning to come out in sympathy. Or is it just bleached by the sun? As a reward to ourselves, we packed a picnic, jumped on our bikes and cycled 12 kms along the "route de crête" towards Pallanne. We watched the landscape unfold out towards the Pyrenees, with a glass of chilled white wine and only a pair of red-backed shrikes (grauwe klauwier) and some curious Aquitaine cows for company.

Thursday morning saw Perry and Caro in their Sunday best for the official opening of the exhibition in Mirande. After an hour of loitering around and looking at the paintings for the umpteenth time, the Director General, the Vice Director General and the Mayor did a little speech followed by a bunfight for the sandwiches and soft drinks. Unfortunately we left before the press photographer pulled his finger out for a group shot, although Perry managed to get his name in the next day's local newspaper.
Saturday morning we had a rude awakening when our cat sitter in Amsterdam informed us that one of our cats, Jake, had had, what seemed to us, an epileptic fit. We managed to instruct her how to revive him. This set us seriously to think about making a quick round trip to Amsterdam to pick up him and his brother Elwood Blues, since at 16 years old neither of them have that much longer to live, and we would rather that they were with us here. Problem is a "quick round trip" is just under 3000 kms.. What to do, what to do?
That evening we went to the annual "Societé de Chasse" dinner. We arrived at 8.30pm to be welcomed with a stare from a hundred or so locals wondering who the hell we were. Thankfully there were a couple of neighbours who helped break the ice, ordering round after round of Pastis until dinner was served around 10.30pm. What followed was a vegetarians nightmare, as huge dishes of venison paté, wild boar ribs and "noir de Gascogne" jambon swept along the 100 meter long table at least three times. Caroline's appetite diminished rather when she spotted the old farmer opposite cleaning out his ear with the end of his teaspoon, wiping it clean on his arm and inspecting it vigorously before attacking the other side. Perry was oblivious to all of this since he was busy holding court and a glass of red wine a little further down the table. We stayed for the raffle for a leg of pork but arrived home, legless, early the next morning.
Sunday morning was a quiet affair. Perry painting a landscape and Caro translating some of her dog research documents. Saw Marco and Marike that afternoon. They showed us a few houses they had heard about. We took them past the house of the two brothers in Guizerix. They like it too. Looks like they may buy some land near Lourdes. That's a long way to go for dinner! That evening we masochistically watched the England-France match in Euro 2004. The English, as always lost their nerve taking penalties. Deep joy.
On Monday, Perry's name appeared in La Depeche -the local newspaper- in connection with the painting exhibition in Mirande. And thankfully not the exhibition he made of himself at the Chasse dinner. Ha ha, only kidding. (That article appeared the day before!)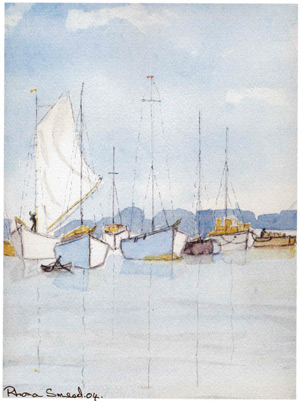 I'm very proud to say, "My Mum painted this".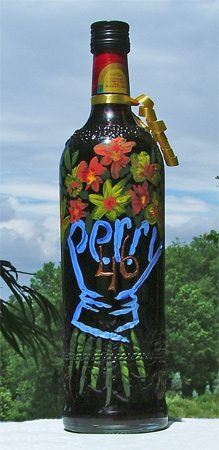 Hand painted bottle by Marike. Merci!
15-21 June
Perry discovered that there was an exhibition of local artists at the café in Marciac. He met up with organiser, Olivier (a local sculptor), who invited Perry to take part. The next few days Perry painted, bought wood, made frames and had four pieces to show for it. He also arranged a place at the artists market on the lake for the summer, so he needs to make a lot more work before mid-July.
Our house hunting hasn't ground completely to a halt. One agent took us to a farmhouse in Ponsampere, a pretty village a few miles from Miélan. It looked great from outside, but the family had 'renovated' it. i.e. ripped out all authentic elements including the staircase. Shame, it had the most fantastic all-round views and a huge fruit and vegetable garden.
We did a lot of admin this week. We want to find out how an artist and a dog trainer can set up a business in France. This involved finding out how to get registered at the Chamber of Commerce, meeting an accountant for advice on company structure, etc. We also delivered the Peugeot to the garage for a technical test (MOT/APK) certificate for importing it into France and chased our insurance companies in Holland for a form that they say does not exist. It was like the Jerry Springer show sometimes. I never heard Caro use words like 'bleep, bleep' before.
Friday evening, Caro toasted me-in family tradition-on the eve of my birthday. One by one, the cards and presents she had smuggled out of the postbox were presented to me. I was moved to tears when I opened the envelope with my mums unmistakable handwriting. A self-made, hand-painted card! Good on you Mum, I love it.
Saturday morning, Perry went to hang up his paintings at the exhibition in the café in Marciac. Everyone loved the tap painting with a real plug and chain hanging off it. (Pictures when the expo is over). That evening Marco and Marike came for dinner, bringing with them the fabulous hand-painted bottle seen left. We stoked up the barby, started on the Pastis and it started to rain. Hard. We dined under the roof of Nieke's entrance on merques sausages and mint couscous until the early hours.
On Monday, we picked up the laptop after a three week wait. Apple said that it was from a series of 2000 computers that had faulty screens fitted, so they had replaced it under an extended guarantee. Service with a smile. Merci!
We called all our house-hunting contacts in one burst and kept them on the ball, but the market is always quiet here in the summer, so they say. We have seen very little new houses come on the market over the last weeks, but we have our feelers out in so many places that we should succeed in finding the one house that does it all.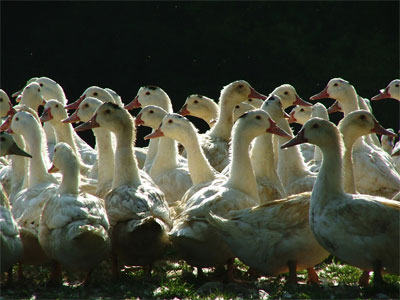 They taste great, but you do not want to be downwind of a duck farm in the Gers. It's big business here with thousands of birds per field.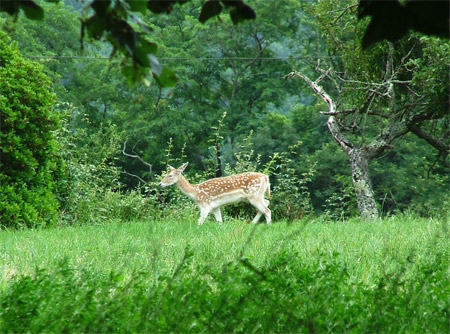 Our inquisitive, young doe. Aaaaaahhh!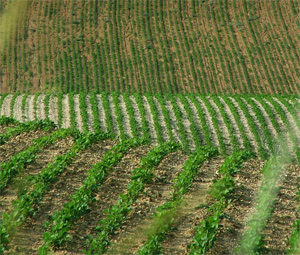 Sunflowers are growing all around us. The rows excentuating the rolling landscape.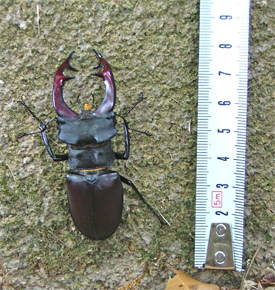 Imagine finding this in your shorts!
22-30 June
On Tuesday 22 June, we received ADSL in Nieke's house. Two days later Perry stretched a tension cable between the main house and our pavilion, hung the internet cable around it and Presto! we are now fully on-line. You don't know what a relief it is not having to go to the post office or internet cafe to do our mail, banking and immigration paperwork.
Wednesday saw us visiting Bruno, a paper importer. He suggested that Perry make a collection to sell to card companies and also asked him to make a few watercolour examples for one of his own projects. A good contact for the future.
One lunchtime, we were eating outside, when Caro whispered to me to look left. There stood a young deer, ears alert, sniffing the air. After a few minutes, she judged us to be friendly and wandered over to us, stopping two metres from our table, sniffing the cheese I expect! She spent the next five minutes very close to us, eating leaves and shoots. Finally I could get up and grab the camera and managed to pop off a shot before she disappeared again.
Caroline had her first training session with Queny, an English setter who likes to run off for hours on end. A tough assignment, but she can do it!
Our insurance broker in Mirande has put us onto a house near Tillac, a medieval village a few KMs away. We went past it a few times. It could be interesting. Plants growing out of the roof, old barns tumbling in. But we don't know what it is like inside. A treasure trove of another time perhaps? Hopefully, we can go and see it officially next week.
We also opened our first French bank account. Lots of signatures and paperwork. What a surprise. Internet banking is available but apparently most of the Gersoises have not yet heard of it.
Saturday was the annual village feast. We were invited for aperitifs around 11 am at our neighbours house, where the Serenade (the village's wandering minstrel band) would pass, play, drink and move on to the next farmhouse. Their garden was set for the party. A long table in the shade and lots of bottles and plates full of snacks. The neighbours were a friendly lot and not economical with their portions when pouring drinks and handing round food. They did not accept no, so we kept on eating. By the size of most of them, they were probably once just guests themselves, but could never find the exit. We stayed til after 1pm and left to do some admin before the big match, Nederland-Sweden. Nail biting stuff to the final penalty.
On Sunday afternoon, we made a 29 kms round-trip bike ride, stopping off at a bikers' bar in the middle of nowhere, where they were playing Motorhead, sporting beer bellies, ponytails and Harley Davidson T-shirts. So it was no cliché at all.
The last few days Perry has become the buffet table for every nasty beasty with a bite. He has lumps all over him, from his neck to his ankles. Very attractive. must be all that late night work on the website by candlelight that attracts them.
Well, that was June. Seven days to go until Perry does his first stint at the artist market, so there's a lot to do in the meantime. Au revoir!