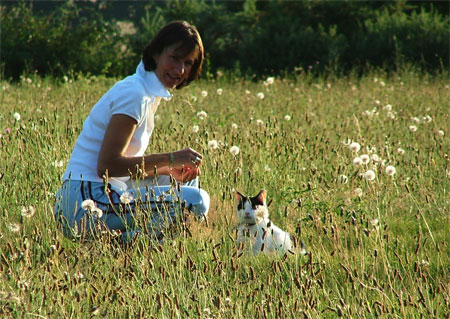 Caro re-aquaints Elwood with nature after 4 months in a back bedroom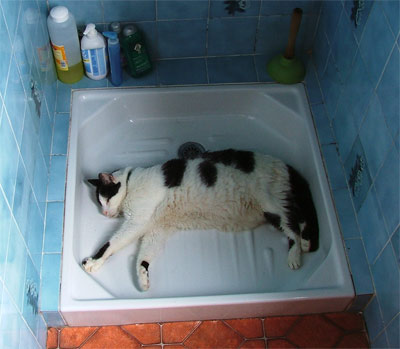 Leave me alone. I'm hot.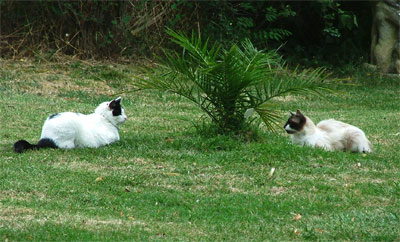 Stop muckin' about and show us ya willy!
Road trip
The alarm went off at 05:00 hrs. A rude awakening to what was to be a four day marathon to Amsterdam and back. Due to circumstances beyond our control, we had to pick up Jake and Elwood, our cats, aged 16 whom we left with a familiy in Amsterdam. Arriving Friday afternoon, we picked up the boys and got them their travel documents at the vet. Following day, we prepped the car, taping off the windows against the sun and implementing Caroline's ingenious safety precautions for the cage door. That way we could clean the shitpit if and when necessary, without the boys escaping across the service station.
We were up at 04:15 hrs on Sunday morning and had to throw stones up to the bedroom window of our cat minders. Plucking them out from under the family's bedcovers, we placed the cats in their cages and started the 14 hour journey home. After the first hour of miaowing and violent bowel movements, Jake and Elwood become model travellers and slept the rest of the way. It went well, even though half of Holland, Belgium and France were taking part in the annual migration South and Belgium was one big roadworks.
Wobbly-legged and jet-lagged, the four of us arrived safe and sound, to be greeted by Nieke, our landlady, who had prepared dinner for us. The next few days, Caro's leash training preparations came in very handy. Jake and Elwood were walked around their new territory and after a few days met Nieke's two feline cats, who were less then impressed by the odd, old couple. On Thursday evening we arrived for the first local produce and artists market in Marciac. We set up our stand next to the lake and did little business. This market was an initiative from the local tourist office who forget to tell everybody, except the traders, that it was happening.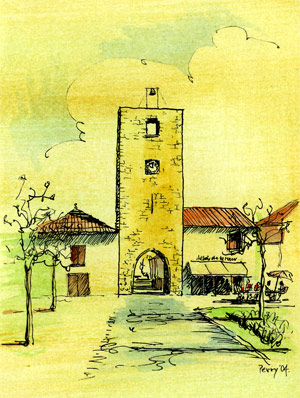 The east tower and cafe of Tillac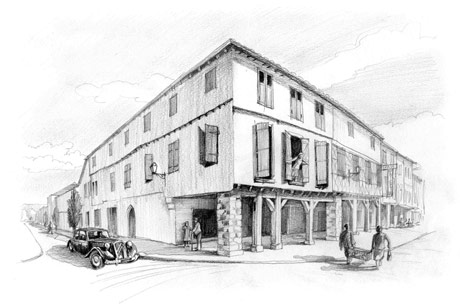 Perry's pencil sketch of Monsieur Lourtaut's house and Traction Avant Citroen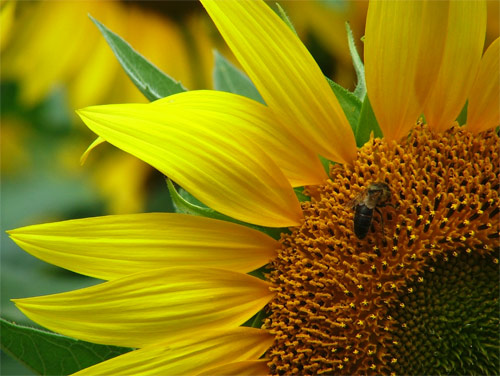 I'm a king bee baby, buzzing 'round your hive...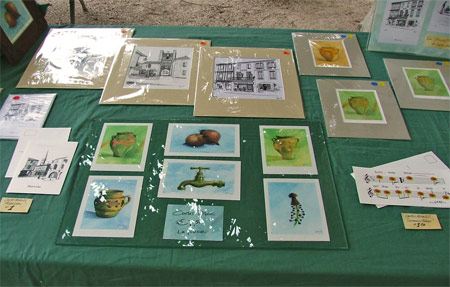 Pssst... hey mate, you wanna buy some freshly printed postcards?
Visitors
Early one morning the phone rang. Perry grabbed it in a naked daze and discovered that our friends, Wim and Saskia and their son Brand Olaf, were less than a kilometer away and needed to be talked in. They drove up in front of the house as Perry made a dash for his shorts, t-shirt and his toothbrush before welcoming them. They brought 'fresh' Dutch newspapers and dropjes (Dutch licorice), great!
We expanded Perry's distribution circle by arranging to sell his postcards of Tillac (village two kilometers down the hill) at the village café. Mind you, everytime we go and check how many they have sold we end up drinking the same amount in beer, which means that at least we get to go out for free. That evening, Wim and Saskia treated us to dinner at the same café. We ate al Fresco as their son, Brand, worked the water pump next to the well and half flooded the village.
The next evening, we ate at Liselotte's (Swedish friend of ours) house in Marciac. Where Perry was quite happily surrounded by seven women at the table.
On the 21st, Perry went to Marciac to be briefed by a client for the design of his family's correspondence card, with a drawing of their house as central motif.
Itchy business
In the meantime, Caroline is in the engine room oiling the wheels and chasing after insurance companies, banks and keeping the books. She is also developing rather a scarily efficient technique when it comes to managing our daily household finances.
In between her Excel sheets, she made a trip to the bottom of the sunflower field for some wild mint and came back with wild life in her underpants (the famous flesh biting Aoutas love warm, dark places). As light relief, she took a walk between the avenue of trees with our cat Elwood, and came back covered in tiny ticks. Perry on his hands and knees scouring Caroline's lower limbs with tweezers has thankfully not been recorded on film. But what we did record were the spectacular sunflower fields that surround us.
Sold!
Thursday evening we set up our stall at the market on the lake, where the office of tourism's publicity seemed to have had some effect. Perry's watercolour of Montesquiou (a famous stopping-off point for the pilgrims of St. Jacques de Compostella) was sold to an English couple who collect art...
Towards the end of July, after many weeks of silence we are being bombarded with houses that are new on the market. A few are quite interesting and we made appointments to go and have a look.
The art exhibition at Liselotte's was a great success.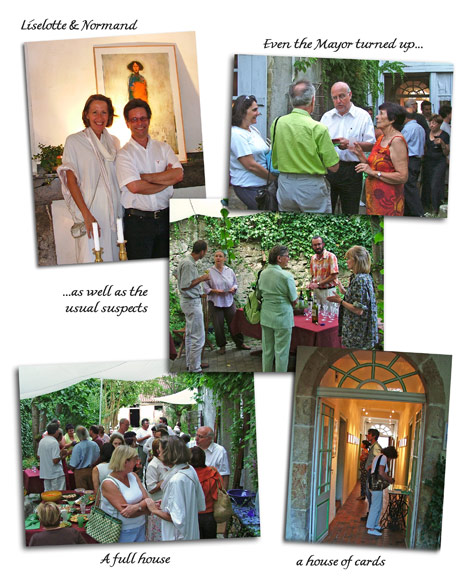 A house with a lake, grounds and a huge, 350 m2 cow shed.
Perfect if you have 50 cows who need a room for the night.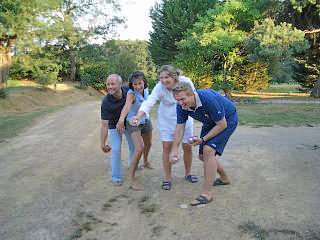 Nieke's son Tjebbe and his very pregnant wife, Karoliina who joined us for many an evening of jeu de boules during their stay.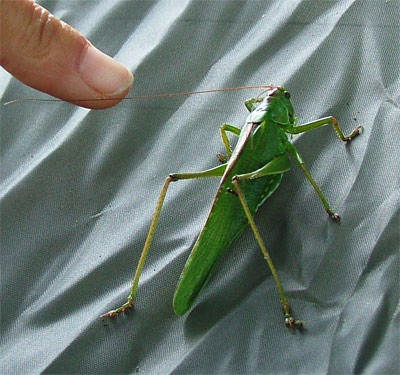 Contains Vitamin C, B1, D, protein, no fats or conservatives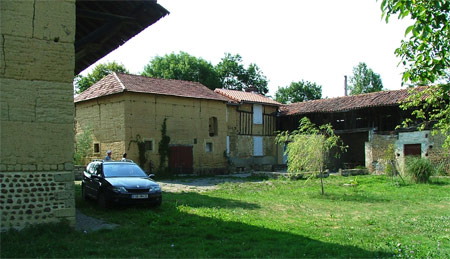 The house of fleas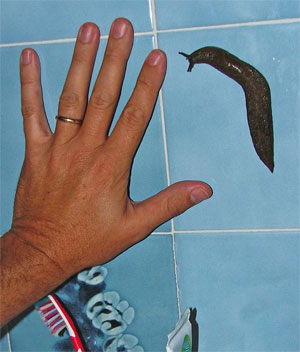 And this is just a baby one!
To the Monday market in Mirande (12 kms away). On every street corner there are groups of locals catching up on the week's news, and the stalls are all buzzing with tourists and French alike. We really enjoy looking for and choosing our breads, cheeses, olives and most especially, our bunches of garlic and spring onions from the ruddy faced, local farmers who barely cover their rented table space with the three or four bunches of produce they harvest each week.
That evening Perry went to the opening of an art exhibition in Marciac. Caro stayed back to look after Jake, our other cat, who had spent the whole day exuding fluid from every available orfice. At one moment, Caroline lost sight of him and was convinced that he had gone off to some dark corner to die. Having recruited our landlady and her visiting son and daughter-in-law in the search, they finally discovered him, under a bush next to the house. They thought he was dead and Caroline was in tears, wondering whether she should inform Perry. At that moment, Jake got up, stretched and waddled past Caroline, up to the house and settled down for the night in his favourite place, the shower. Unaware of all this, Perry was busy making contact with a local website builder and an artist who invited him to take part in an exhibition during the Jazz Festival in Marciac (Marsalis, Cesaria Evora, Dee Dee Bridge Water, Richard Bona etc.)
A bit of house hunting
Mme Poirot (local real estate agent) met us outside the cafe at Bassoues (14 kms away from us) and took us to see three houses. One of which we seriously considered buying, were it not for the huge concrete cowshed right next to the house.
Creepy crawlies
Every evening at our house, we see a huge assortment of moths and other insects. In this darker than dark countryside, where the nearest neighbour is 300 meters away and no big city for tens of kilometers, they are attracted by the computer screen and the candle light. Shame we don't know the names of all these creatures. We have a couple of names for the hundreds of flying ants that hatched out of the wall right next to our bed on several occasions. But those names are not suitable for this website.
You'll never guess who I had at my stall last night...
The last market around the lake before the Jazz Festival, was honoured with the presence of the mayor of Marciac, but we had no idea who he was. The unsuspecting soul approached our stand, where upon Caroline did her spontaneous, enthousiastic sales talk, guiding him towards Perry's ink drawing of the town hall, which he immediately bought. it was only afterwards that we found out who he was.
Hic!
The next day, Perry delivered his drawing and layout of the correspondence card for the client in Marciac. He was extremely pleased and insisted that Perry take an aPerrytif with him. So, at 11:00 hrs in the morning, two large glasses of whisky were clinked and consumed. It's funny. The commission was to draw the house as it used to be. Without the shop signs, road signs and modern cars in front of the door. Yet as they sat there, Marciac was being prepared for the near future, as teams of tent builders banged about the squares and streets below, preparing for the thousands of jazz fans that would arrive in the next 48 hours.
Crispy breakfast
This is definitely the month for insects. Caroline was busy making a fruit juice and had piled up the ingredients in a jug and grabbed the blender. At the very last second, she noticed a piece of green grass sticking out from the blades. Turning it toward her, she saw that it was a huge, green grasshopper that almost became the crunchy bits and extra vitamins in our morning drink.
A moving house
On the last day of July, we met up with Hannes, the German estate agent we had met earlier this year. He took us to an interesting and rather lively house. Opening the doors to the stables, we were immediately pounced upon by swarms of flees. We stepped out into the sunshine covered in black wriggling, biting specks. After an extensive clean-up operation it occurred again in the shed next door. We decided against the house because of the proximity of the busy road. We always wanted to be closer to nature, but this month we did not have to search for it, since it lives in our shoes, food and next to our toothbrushes.