Who, where and why
We left Amsterdam in March 2004 to start a new life in South West France. The idea of this site is to keep our friends and family up to date on our progress, but as time goes on, more new readers are joining us regularly to catch up on our adventures. Some of you may not know who we are, so here are our profiles, in a nutshell.
Caroline
Caroline is Dutch and was born in Amsterdam in 1965. She grew up in Abcoude and preferably spent her summer holidays helping out on a nearby farm.
After finishing high school, she did a French course in Lausanne, Switzerland. A secretarial diploma in her pocket and a taste for freedom and independence, she started travelling to experience different cultures. Earning her survival money en route as tour guide, office worker and agricultural labourer, etc, before returning to Clogland to save up for the next trip. She is no stranger to Asia, Australia and Central America.
After living in Hong Kong for several years and a forshortened stay in Australia, she returned to Amsterdam. She started working as office manager, with a view to emigrating again. It was then that she met up with Perry, a long time acquaintance. When on holiday together in Costa Rica, Perry proposed to Caroline under the toucans and howler monkeys (from there came the name, Two Can) and they married in September 2001. Hungry for the the great outdoors, she studied for two years with the aim to train guide dogs for the blind. Just before leaving for France and with all diploma's in hand, she was invited for an interview with the Guide Dogs for the Blind Association in Amsterdam...to be continued?
Perry
Perry is English and was born in Oxford in 1958. He went to art school in London and designed everything from wine labels and theatre posters to record covers and soap packaging. From there, he went into advertising as an Art Director. Working in several agencies including TBWA in London. In 1991, Perry saw an opportunity to transfer to their Amsterdam office and grabbed it with both hands. This was followed by several years as a freelance art director, often travelling on photo shoots around southern Europe, mostly in France. In 2000, he set up his own agency with two partners. At exactly the same moment, Caroline reappeared on the scene and they surprised themselves by becoming an item. Three years later and after almost twenty years in the advertising business, Perry told Caroline that he wanted to change his life. The rest, as they say, is history.
As for the future, Perry has just launched the website to his new enterprise, la Baguette Magique, which is French for Magic Wand. Caroline has taken over the role of account manager, new business director and receptionist!
Perry can get on with what he is good at and is currently creating for clients around the globe via ADSL. Check out his site here.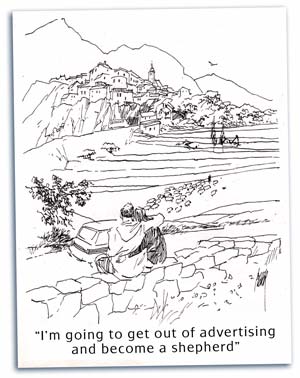 From a cartoon by the Dutch satirical cartoonist, Peter van Straten.
Why France?
Why not? We speak the language and love the culture, the cuisine and the wide open spaces that we could never find in Holland. Perry was hooked after his first trip on a train from Paris to Narbonne at the age of 14, with a school chum. Encountering two twenty-something, scantily-clad French girls and their garlic-oozing parents in a couchette, he was sold. Caroline's grandmother was French and so spent many holidays at the family house in northern France.
Why this part of France?
The rolling, agricultural landscape of the Gers and the Hautes-Pyrénées is reminiscent of the Cotswolds and Tuscany. The weather is mild and the air is clean. We are close to the Pyrénées, both the Atlantic and the Mediterranean, as well as Spain and Portugal. We can jump in the car and go for a day skiing, to a seafood restaurant in Biarritz, or a tapas bar in Barcelona. Or just stay here and watch nature all around us. With no motorways, or industry nearby, it is a forgotten corner that many pass without stopping. We're very glad we did.
Foie gras, Armagnac and garlic are all local products. Delicious!
Above all, we find the Gascon people friendly, helpful and down-to-earth.
Vive la France!